Rak Ceramics has enhanced its appeal to the kitchen sector with the launch of what it describes as a "one-of-a-kind" cooking system.
Launched under its CookingRAK brand from its London studio during Clerkenwell Design Week, the new induction hob system can be integrated into a porcelain worktop and could, the company says, "revolutionise the kitchen".
Designed to create a multi-functional kitchen space ideal for daily use, the system is integrated into the countertop allowing users to prepare, cook and dine in the same space.
Speaking at the launch, Rak Ceramics UK MD Alvin Biggs (pictured below) said: "It's a really exciting development. The kitchen has to be so multifunctional these days that we felt there was a way to change how we use worktops. By integrating this innovative system inside the slab, it completely frees up the countertop.
"Together with an induction hob manufacturer we have used our expertise, knowledge and understanding of porcelain to create this unique cooking system.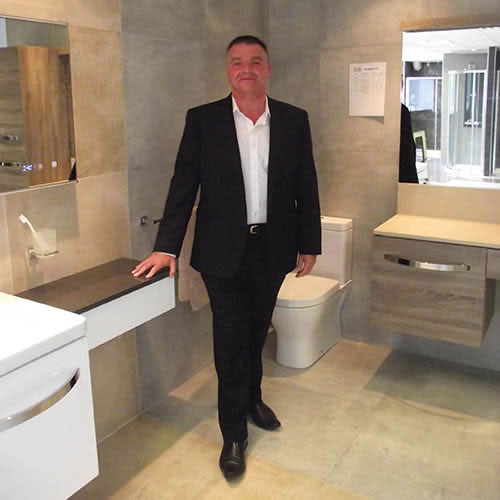 "This could be a very powerful product for designers, retailers and specifiers because it really opens up design possibilities for the kitchen. It's a very specialised product because the countertop has to be installed by a fabricator however, so we obviously don't expect it to be a commodity product but it really will create exciting design opportunities. We only guarantee the system if it's specified in a Rak porcelain surface and provided the existing countertop meets the criteria the system could also be retrofitted.
Despite acknowledging that the market is currently challenging and warning that the remainder of 2023 will be tough, Biggs appeared relatively optimistic for the future of the UK KBB market in general. "I think we've all just got to hang on tight and get through the rest of this year and then things will start looking better," he said. "Yes there is a lot of economic uncertainty at the moment however, what we're all experiencing in the KBB industry at the moment is that inevitable slowdown following the Covid boom.
"I just think we have to come to terms with the fact that the rest of 2023 is probably a wash out so everybody's just got to grip on for the rest of the year and then I am certain things will pick up as soon as consumers start to see the economy stabilise."