'Moving here was the best business decision I have ever made'

In the four years since Ruach Kitchens in Westerham moved from an industrial estate to the high street, turnover has rocketed from £400,000 to £1.2 million. And with a stand at this year's Grand Designs in London, the company's profile has never been higher. Chris Frankland visited managing director Ian Penman (pictured right) to find out more
Location, location, location… Well you'll get no argument about that from Ian Penman, managing director of Ruach Kitchens. Turnover doubled in one year when he moved from an industrial estate unit to the twin-fronted shop on Westerham's busy high street.
Penman set his sights on this former furniture store in 2009. "I wanted to take the company in a new direction and develop our branding as Ruach Kitchens," he tells me. "Moving on to the high street was a major stepping stone. We first started looking at it in 2009. The economy had gone slightly belly up, but I felt we had a good product with Mobalpa. In the industrial unit we were doing one kitchen a week and we only had five displays, but they were small, not full-kitchen sets. It's the old adage – location, location, location. It may be a cliché, but it is fundamentally true"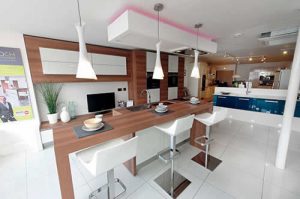 But the landlord wanted to let the whole building, not just the ground floor, which did not suit Penman.
"So, I left it for nine months and reapproached the landlord, and at that time they were thinking about splitting it and converting the rest into flats," explains Penman. "At that time, 2009, despite being a prosperous area, there were still one or two vacant premises in Westerham. It was a bold move. The problem was that at that time, being on an industrial unit, we didn't have a high profile and we wanted one. And now, 50% of all our work comes in from passing trade – before it was 70% by referral. Westerham is very much a destination town."
Was it as good a move as he'd hoped for? "I would say that moving here was the best business decision I have ever made," beams Penman. "It gives a really good showcase for the business. We leave the lights on at night so people can see in out of hours. Now we have space for six good full-size room sets."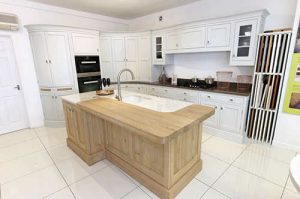 The move also allowed Penman to widen his product offering. At the old industrial estate unit he sold just Mobalpa and traded as Mobalpa Kitchens by Ruach Designs. Since moving on to the high street, he has added British brand Daval and his own bespoke handmade line, which he brands Ruach and buys from Inspired Furniture in Northern Ireland. And at the beginning of this year, he has completed his line-up with the addition of German brand Rempp, which gives him a proposition at the top end of the market.
Another milestone in the development of the Ruach business was Penman's brave decision to have a stand at the Grand Designs show at London's ExCeL this year.
So how did that all come about. "Miele had a kitchen design competition in 2015 which we won, and as part of that they gave us free space in the Miele Kitchen Village to put in a kitchen display," he says.
"This year, 2016, we decided to really go for it with our own 40sq m stand at Grand Designs. We put in a black Mobalpa kitchen [see it at www.ruachkitchens.co.uk] that flowed into a living area. It had a mirror glass splashback and a Bora hob. It was 11 days, including two weekends, which was a big commitment for us. We had a minimum of three staff there, sometimes four or five, but the feedback we got from people visiting our stand was that it was the best kitchen display at Grand Designs. It was a full-size room set, but we took two walls off to let people look in and understand how it worked. A lot of other companies tried to cram in two or three kitchens."
Challenge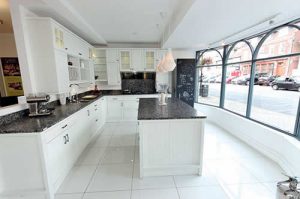 I ask Penman if it was a challenge to staff the stand. "Some of our fitters helped out," he recalls. "Stuart Kirkpatrick [business development manager] from Mobalpa also helped us out there and our Bora rep Hilary gave demos of the hob."
So did it work? "Exceptionally well," smiles Penman. "We have sold four or five kitchens from that already and we are also quoting on others. It could turn out to be three or four times that over the next 12 to 18 months."
Was cost prohibitive? Penman explains: "Just the stand space cost £20,000 and on top of that you have to build the stand. That was another £10,000 – plus the kitchen, of course. But Mobalpa gave us a good display rate. We sold the display kitchen complete, which meant that we were cost-neutral on the kitchen. It was definitely worthwhile. And in terms of social marketing it was also very good for us."
Not bad for an admittedly cautious businessman who started out in 1993 selling kitchens from brochures and door samples in his spare room, with his double garage as a storeroom.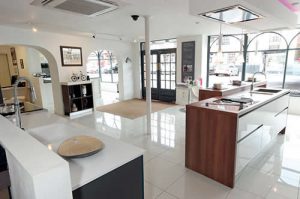 He had trained as a mechanical engineering draftsman, but was inspired to take a fateful change of direction by his wife's cousin, who was a kitchen designer. In 1990, he went to work for PJK Kitchens in Caterham, where he worked for three years, before leaving to set up a kitchen showroom called Figura, also in Caterham, with his friend Giles Slater. But he then sold his interest in that company to Slater in 1993, when he decided to go it alone, initially from that spare room at home.
He recalls: "Working from home was built up on the back of Yellow Pages. Back in those days you could take out an ad for £5,000 and that would bring in £60,000 to £70,000 of business.
"My dad's a Scotsman and I have always been conservative in my approach and tried to keep things tight, so I didn't want to borrow large amounts of money to get a big showroom, I wanted the company to grow organically."
And it has certainly done that since his bold move on to the high street.
"Business is up since we moved to the high street. We do at least six kitchens a month and we have had quite a dramatic increase in turnover over the past five years. At the industrial unit, I was doing £350,000 to £450,000 a year, but in the first year here we doubled that to £800,000. It stayed level for a couple of years, until our year end this February when we were up to £1.2 million. And with the amount of work coming through, we are projecting £1.6m for this financial year."
Handmade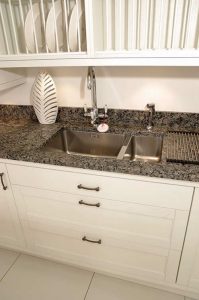 Penman is also happy with the range Ruach sells now.
He tells me: "When we first started, we chose just Mobalpa, but I had always had a dream of doing handmade traditional. We went to an ExCeL kitchen trade show and came across a company in Cookstown, Northern Ireland, Inspired Furniture, and we got on very well with them. We brought that in for our high-end traditional.
"Now we have a matrix of four companies that we work with. Two on the traditional side – Ruach from Inspired Furniture at the high end, and mid-end we use English company Daval with traditional Shaker styles. On the contemporary side, we still have Mobalpa, which is still probably 70% of our work. And at the beginning of this year we took on a high-end German company called Rempp. A nice company to work with and they do some bespoke as well. That gives us a useful push into the higher end. And they have some very exciting doors that mid-end manufacturers can't do – such as a sprayed concrete. They also do slate doors. And Rempp will be one of our two front window displays."
Penman directly employs all of his core staff, which consists of four designers Amy, Heather, Violet and Carolyn, his son Joshua (pictured left, top of page), who is helping with the management of the business, and five installers.
Looking to the future, will he do Grand Designs again? "I'd like to but my wife wouldn't," he laughs. "But I think we have to look at it."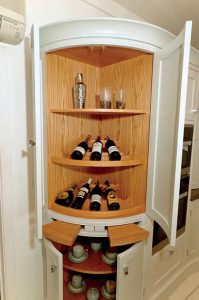 An area he will be looking to develop is the web side. "We have put a strong focus on our website, which was redesigned from the ground up four years ago," says Penman. "It is Google-friendly and this year we will be investing in SEO to get it better optimised. We also want to do more on social media. One area we want to work on is our blog. My daughter Laura will help make sure we have a decent-sized one every month. We need to keep it ticking over."
With no worries about an exit strategy since his son Joshua joined the firm, does he have plans to expand? "It is something we are thinking about," he confides. "I am thinking maybe not just one, but two satellite stores with the same ethos. The most successful models tend to be franchises. If you can make your company a franchise, you will be successful."
With a strong brand and a great location, the tradition of 'grand designs' at Ruach Kitchens looks set to continue.