The British Furniture Confederation (BFC) has met with the Minister of State for International Trade to discuss investment in developing export markets.
At the Export & Growth Event last month, which was organised by the BFC and also attended by industry peers and other MPs, it demonstrated the contribution the furniture sector makes to the UK's economy and expressed its concerns about the level of Government help available in creating export growth.
The furniture industry is a £10 billion sector, employing more than 106,000 people and exporting around £1bn.
A recent BFC industry survey, which will be published on November 10, found that over 50% of furniture manufacturers are planning to increase export activities over the next one to two years.
However, 80% said they had been unable to access EU or UK Government funding for investment in export and growth.
When asked what intervention from the Government the industry would like see post-Brexit to ensure the best outcome, common themes were:
Greater liaison with industry to fully understand the market conditions and requirements the industry needs to protect, develop and promote;
Retain commonality of standards and ease of moving goods from Europe into the UK and vice versa;
Access to the single market and, as required, access to the European labour markets for certain skills (e.g. upholsterers)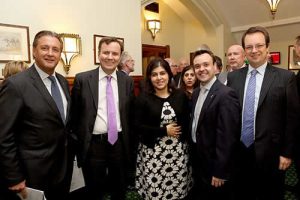 The industry also highlighted a number of key actions the Government could implement to encourage it to export more:
Provide more visible support to UK business in terms of simple and easily obtainable grants for exhibiting and travelling to trade shows, access to UK trade missions and promoting UK export as a success globally;
Provide better, clearer advice, preferably through a central knowledgeable resource about a specific export country's minimum mandatory legal requirements;
Allow tax breaks for export investment and investigation;
Ensure competitive trade agreements are in place
Greg Hands (pictured left), Minister of State for Trade and Investment highlighted the Government's new commitment to increasing the UK's exports to £1 trillion by 2020 and the number of companies exporting to over 100,000 with the creation of a new department – the Department for International Trade.
Jonathan Hindle (pictured right), BFC chairman, speaking on behalf of the industry, acknowledged that, as was the case with UK international trade overall, there was a significant trade deficit in the furniture industry. However, there was a considerable appetite to start closing that gap – exports had increased by 10% in 2014 over 2013.
"The UK furniture and furnishing industry is an important sector of significant strategic importance to the UK economy and can make a substantial contribution to closing the UK's 'Export Gap' – but the Government needs to do everything it can to instil confidence in furniture companies that export and to encourage those which have never exported," he said.
"Brexit has galvanised our industry to take a fresh look at new export markets, most notably the USA, Africa and India. Our industry is calling out for more information both on the support provided by the Government for exports, for market-specific information on local traditions, differing regulations and project opportunities. Our exporters and potential exporters want to see more stability in Government decision-making. They need to know whether support is available – and they'd like to see a substantial increase in the value of grants for participation in trade shows, which are currently very poor when compared with the support other successful exporting countries get from their governments."