SPONSORED: Whether it's kitchens, bedrooms or bathrooms, your business relies on suppliers you can trust. Simon Noble, operations and marketing manager, talks about what makes East Coast Fittings your perfect partner.
Having been founded over 35 years ago, East Coast Fittings Ltd (ECF) has both witnessed and adapted to the dramatic changes in the market place. Despite this, ECF has maintained its core values and remains to this day a thriving, family-run business.
Employing around 135 people, ECF currently supplies a wide network of trade customers across the UK and Ireland. All customer types are catered for, including fitters, independent studios, national retailers, builders, developers and furniture manufacturers.
Good old-fashioned values
One of the biggest reasons for that success is our principled approach to business. We always look to add value wherever we can, whether it's in our products, our support materials or just the way we deal with customers on the phone.
Many of the professionals we work with tell us that's why we're their preferred partner; we're committed to offering flexibility, choice and innovation of course, but it's exceeding expectations that our customers really appreciate.
Brilliant new innovations
These values are reflected in our products too – such as our latest Volante Sliding Doors.
With a new brochure pending release, this industry-wide, critically acclaimed product has been given a further upgrade making it more practical and fashionable than ever.
The choice of décors and finishes is bigger than ever, with beautiful textured woodgrain, Uni-Colour, mirror, suede and glass panels and the option to combine them in a variety of ways to suit any style and décor. There's now a range of upgraded internal storage and matching bedside furniture too, plus the new Volante Kids collection – incorporating bright and pastel shades, chalk board and white board finishes, it's the perfect choice for any child's bedroom or playroom.
Volante typifies our ethos – always looking for ways to innovate and improve, to give our products added consumer appeal.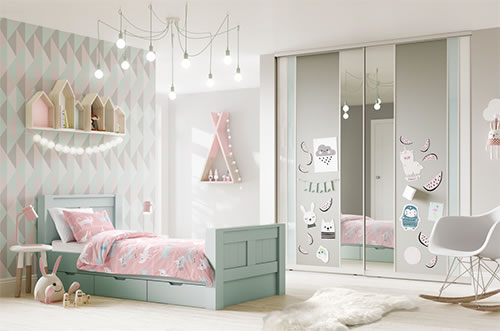 Offering customers more
In fact, our product range is bigger than ever – with 4,000 door style and finish combinations and tens of thousands of components, including the latest larder solutions in Blum's Legrabox Space Tower. As well as our rock-solid Superior Cabinets, which continue to be the core of many
kitchens, our super-stylish Greyhouse Bathroom range and the outstanding rigid Gaddesby Kitchen collection – soon to be one of our most popular ranges – enables you to create everything from minimalist chic to traditional shaker styles.
But then, we feel that's what sets ECF apart – offering a better choice so you can customise your offering to give customers exactly what they want, in terms of style, quality and practicality.
And that's what makes us the perfect fit for your business.
To reserve your copy of the latest Volante Sliding Doors brochure, contact ECF on 0800 0838 864 or email

[email protected]

and quote 'KBB16'.