'Our goal is to be the best supplier in the furniture industry…'

Having recently completed an ambitious £2 million development of its HQ and factory in Oldham, HPP is looking to make a significant impact on the KBB market. Rebecca Nottingham went to meet MD Keith Wardrope (pictured) and marketing manager Dan Mounsey to find out more about the business and its growth strategy
Just when you thought you'd heard all the arguments in the debate over the changing role of distribution in the KBB industry, someone else wades in with yet another interesting point of view.
So, with all the recent talk about why distribution is evolving, it's interesting to hear that managing director Keith Wardrope sees HPP, the Oldham-based kitchen component supplier, as more of a brand ambassador than a traditional distributor.
"A massive part of what we do is distribute," he admits. "But there's so much more to our business, and to distribution generally, than just buying something and selling it on. We're more like ambassadors for the brands we sell as opposed to being a company that just moves product around.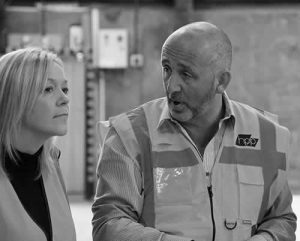 "We don't just work with already well-known brands either. Around 10 years ago, we started working with Italian wirework brand Vibo. Back then, they weren't known in the UK at all. Now, through our commitment to the brand and our marketing strategy, people know it and it's got a good reputation in the market. That's a great example of what distributors can do for a brand."
Marketing manager Dan Mounsey adds: "We invest a significant amount in marketing and promoting brands and products. And, through educating the market, we're adding real value to our customers too."
In an increasingly competitive market, part of being a distributor today, and something that Wardrope sees as a particularly strong part of HPP's own strategy, is to support retailers by finding products that make their company more appealing to consumers. "We talk to our customers, we take on board what they feel their offering is missing and search the market for brands and products to fill those gaps. Through the products we bring to market, we're actually pushing our customers forward and helping them to develop to ensure they don't stagnate.
"Distribution is changing and it's got to change, because of the way the market has evolved. I'd say that it's crucial, for any distributor operating in today's market, to interact with their customers and react to their needs. If you're a distributor that's just buying a box and selling it on, then I'd be really worried."
With adding value in mind, Wardrope tells me that constantly looking for new opportunities is a big part of how HPP keeps ahead of the competition.
"We're always looking at ways we can improve what we do as a business, both in terms of product and service," he explains.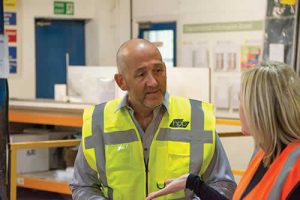 "Searching for new and innovative products that can add value to our offering is a crucial part of what we do."
One such 'new innovation' was ClicBox – a tool-less assembly carcass developed by Belgian flooring and panel specialist Unilin – on which HPP initially had exclusivity in the UK. While the brand is still proud to have the product as part of its portfolio, as it claims it was the first to the UK market with ClicBox, I'm keen to find out what they made of rival firm BA Components buying the brand.
"At the end of the day, companies have to do what's right for them," Wardrope explains. "BA Components bought the brand and now manufactures it. Yes, it was a shock. Yes, BA is a competitor of ours, but it happened and we'd rather buy ClicBox off BA than not buy it all, because it's a fantastic product that adds real value to our proposition. We have a good relationship with BA and have had no issues at all with them supplying the product to us.
"Would HPP have wanted to purchase the brand and take on full production responsibility? Actually no. We can make good money buying it and selling it and enhancing our service offer through it, but I don't think there's enough in it for us to manufacture it."
Teamwork
If you type the word teamwork into Google, it brings up the following definition: 'when a group of people work together cohesively, towards a common goal, creating a positive working atmosphere, and supporting each other to combine individual strengths to enhance team performance.'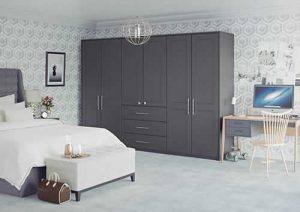 And for Hill's Panel Products, it becomes clear from what Wardrope says that teamwork is not just a bit of business jargon, and that keeping a motivated and enthusiastic workforce has been central to its 25 years of successful trading.
"Why do I think HPP is still around 25 years on? For me, one of the main reasons is the people that work here," Wardrope explains. "I know it sounds like a cliché, but at the heart of every business should be its people and this is, and always has been, our core philosophy.
"We have an incredibly strong workforce, many of whom have been here for a number of years. Continuous investment in training and personal development makes staff happy and motivated and keeps standards high, throughout the business, which our customers, of course, benefit directly from."
According to Wardrope, this philosophy and investment in people is one aspect that attracted him to join the thriving business 13 years ago.
"I've genuinely always believed that, as a business and from a managerial perspective, you're only ever as good as the people around you," he says. "A large part of my role as managing director is to make sure everyone around me realises just how good and valuable they are and to give them more confidence in their own abilities.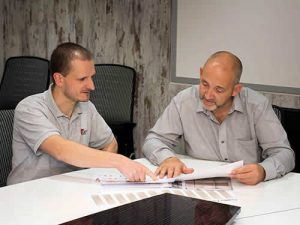 Hill's Panel Products was established in 1991 by Malcolm Hill, the father of chairman Stephen Hill, and operations director Martin Hill, with the aim of supplying components to the furniture industry. Since then, the company and its product range has expanded significantly to cover a wide range of full and processed sheet material, vinyl-wrapped doors, furniture fittings and worktops.
"The product portfolio has evolved over the years through supply and demand," Wardrope says. "Ultimately, our three main product categories are board, which accounts for 50% of the business, doors (30%) and fittings (20%). We don't sell a kitchen or a bedroom, but we sell all of the components required to build one. So, and here's another cliché – we can honestly describe ourselves as a true one-stop-shop."
And, according to Mounsey, it's the company's ability to meet the demands of a varied customer base with a comprehensive product portfolio made up of big brands, including Egger, Blum and Sensio, alongside its own range of stock and made-to-measure doors, that makes it such a solid proposition.
"We have a diverse customer base, ranging from small independent retailers to multiple retailers," Mounsey explains. "Being able to fulfil wide-ranging orders and meet the specific needs of each customer is exactly where our strength lies."
Furthermore, the launch in 2013 of its Avanti stock door range, sourced from Italy and Denmark, gave its customer-base, less reason to shop anywhere else.
"The decision to bring in stock doors was a direct reaction to the way our customers were operating coming out of the recession," Wardrope explains. "Retailers were just starting to get jobs again and we realised that they didn't want to have to wait seven to 10 days for a door.
"By bringing in the Avanti range, we gave them the answer and took away any reason for our customers to go elsewhere."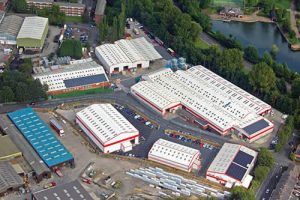 Launched with just nine door options, the reaction to Avanti from its customer-base, within the first six months, was, as Wardrope puts it, "phenomenal". Three years on, HPP has just completed work on building a dedicated warehouse for the collection, which now holds around £1 million worth of stock.
"The door side of the business is where we're seeing the biggest growth potential," Wardrope adds. "And we see our Avanti stock doors as a significant part of HPP's future."
Although it originally served customers in and around Greater Manchester, over the past 25 years HPP has expanded its reach to become, virtually, a national distributor. The business now operates out of a 200,000sq ft HQ and factory in Oldham and its distribution centre in Sheffield, supplying over 2,500 customers every month. Last year it achieved turnover just shy of £25 million.
Since day one, HPP has been ploughing profits back into the business. This continued investment has allowed the firm to implement the latest production and warehouse technology and equipment. All of this, Wardrope says, is helping to drive the business towards its ultimate goal – "to be the best supplier in the furniture industry".
"Investments are part of our ongoing strategy to improve standards of product and service to our customers," he adds. "We keep a constant eye on the market, and if we see standards are being raised elsewhere, we have to be able to raise ours too.
"We're very fortunate our owners have always put the company first and recognise the importance of investment."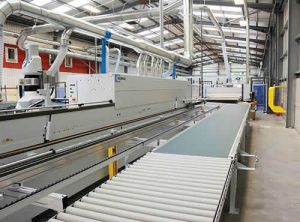 With the UK on its slow journey out of Europe and Trump about to take charge at the White House, it's fair to say there's an element of uncertainty around at the moment. How does Wardrope plan to take HPP forward in what could very well be a challenging market?
"The past 18 months have been a period of consolidation for HPP," Wardrope concludes. "The investments and developments we've made will allow us to move forward and I believe we'll start to reap the rewards of those investments next year.
"Things look very promising for us. We're on target to finish 2016 with turnover of over £26m and my aim is for £30m within five years.
"KBB retailers are still at the core of our business, so a large part of the strategy to hit that target is to concentrate on what we're already doing for those customers, while trying to add even more value. We've also identified other potential markets, such as caravan manufacturers, hospitals and universities, so we will also be focusing on these sectors in order grow the business."