Work surfaces manufacturer Bushboard is launching Options, a laminate work surface collection to replace its Prima range.
Bushboard was acquired by Wilsonart in November last year and claimed the Options range signals a "new direction" for the company.
The new collection draws on surface material expertise and resources from Wilsonart Engineered Surfaces.
Aimed exclusively at independent kitchen retailers, it includes 25 new designs, four texture innovations, classic favourites and the company's 22mm slimline thickness.
It will be professionally merchandised for Bushboard's retail partners from April 10 with nationwide availability from its distribution partners.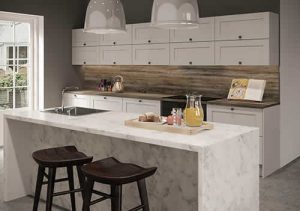 Bushboard commercial director Neil Horton (pictured) said: "Wilsonart is among the world's largest and best invested suppliers of surface materials and this has presented us with the unique ability to develop a range that combines their international gravitas with our UK market expertise. We can genuinely say it sets the design bar higher than any other laminate range currently available here. It features leading-edge new designs and surface textures, alongside proven consumer favourites, giving retailers an inspirational new dimension to their sales offer.
"Over the past 20 years, our retail partners have always trusted us to bring them successful worktop ranges. We are now in a better and stronger position to do this than ever before. Options signals a fresh new future that gives retailers design-led products backed up with the signature quality, retail support and the customer care that they are used to from Bushboard."