It is hard to know where to start at Clerkenwell Design Week. There are more than 100 showrooms to visit, seven exhibitions, 25 fringe events and art installations around every corner, which is all packed into a quarter mile radius.
On the first day of the festival, Vicki Evans walked over two and a half miles to find the perfect, and most efficient, route to sample the best CDW has to offer for kbb – so your feet don't have to hurt so much!
Saneux – Broad Yard
Starting off with bathroom and sanitaryware brand Saneux's showroom, which is close to Farringdon Station. The brand welcomes all to celebrate for its new showroom with cupcakes and a chance to win a holiday in the Cotswolds
The showroom is fitted with a range of bathroom styles and showcases small bathrooms with a focus on materials like porcelain, brass and vitreous china.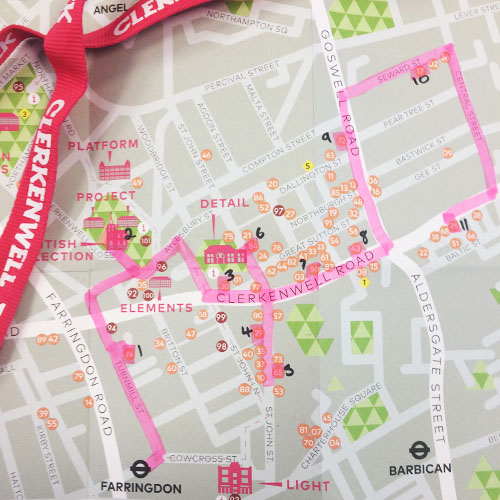 British Collection: DeVol and Plunk – Crypt on the Green, under St James Church
This exhibition showcases British designs and features two kitchen brands: DeVol and Plunk. DeVol is showing its new Haberdasher's kitchen, which is inspired by mid-century furniture.
Plunk was launched two years ago at CDW and manufactures bespoke kitchens directly to its clients. Despite not being a retail supplier, a lot of inspiration can be found from its display like how to match bright peach colours with bold geometric designs.
DeVol – 36 St John's Square
The townhouse showroom creates unique space, which feels more like a home than a showroom. Split over two levels, the downstairs is a mix of the Classic English and Real Shaker brands while the upstairs shows the Sebastian Cox range with its copper worktops and dark blue stained cabinets. The whole house creates a space which feels like an old Georgian house, which is compete with a bathroom and dressing room. There is a DeVol showroom on Tysoe Street as well.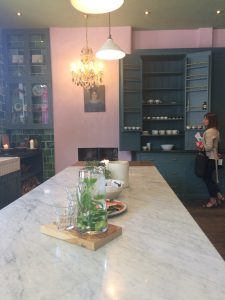 Wedi and Designwork Tiles – 91 St John Street
This bathroom wall showroom showcases the direct-to-trade manufacture, Designwork Tiles, and building boards brand, Wedi. The showroom itself is a way to see that basic products can be displayed in creative and engaging way.
Mosa and Grohe – 56-60 St John Street
Walking down the street then found the Mosa showroom. At this point you may need a drink so the expert mixologist will make you a mocktail or you could try out Grohe's blue tap which produces sparking water with two different bubble settings.
The Mosa section shows the range of tiles and its vartiey of surfaces. The Grohe section, at the back, shows the latest products and trends including the smart control showers, the former mentioned multi-function tap and its range of shower heads and taps.
Toto – 140-142 St John Street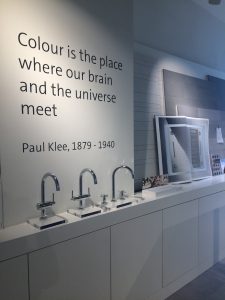 After those drinks you may need to relieve yourself and this will be a perfect time to try out the Toto toilets. Downstairs in the showroom you can sample three of Toto's washlet range.
Upstairs in the showroom features a range of the Toto products including its main showers and bath collections.
Kohler and Kallista – 44-48 Clerkenwell Road
The Kohler showroom is packed with bathroom including displays of the Reve, Rythmik, Parallel designs. The mainfeature is the new Dutchmaster sink, which is a dark floral design that is a distinct feature in a bathroom.
Kallista showcases its range of showers and taps as well as two small displays like the antique bronze collection, which mixes dark accents with while marble.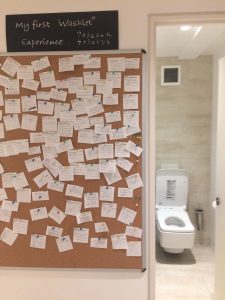 Hansgrohe – 12-14 Clerkenwell Road
Hansgrohe's MyEdition taps by Axor, with changeable tops on the taps, is being launched for first time outside Salone de Mobile in Milan and are due to be fully launched in October. The taps are the focal point of Hansgrohe's CDW experience and the rest of the showroom is dedicated to the other Axor and Handgrohe ranges.
Porcelanosa Group – 93-99 Goswell Road
Heading up Goswell Road to visit Porcelanosa Group's all-inclusive range in its Design Centre and see how a brand can incorporate displays of flooring, bathrooms and kitchens into one showroom. On Wednesday night, there will be an in conversation talk between Jestico + Whiles and Porcelanosa.
British Ceramic Tile – 26 Seward Street
BCT are using CDW to celebrate the best of British, and proudly wave the flag that their tiles are designed and made in Britain. The studio is hosting a number of events over the exhibition including a screen-printing workshop by March and May and a talk by shower enclosure designer and manufacturer Roman Limited.
Cosentino City London – 28-32 Old Street
At CDW, Coentino have launched its revamped showroom. The new space includes a hands-on sample room to make it easy for visitors to come and see the product, which includes a 3D mood board and CAD-style projection. Cosentino has also launched its new hero surfaces: Dekton, Silestone and Sensa.
There is a lot more to explore and be inspired by at CDW. If you follow this route then let us know on Twitter @kbbreview.