Pinterest is becoming an effective way for companies to grow and another strand to a company's marketing strategies. But which strategies are best for Pinterest? Harry Sanders investigates
Pinterest is like an online pin board- mostly for collecting visual pieces of multimedia. Users of the site interact by liking, commenting and repinning other users uploads. Repinning is adding an image found from others on the platform to your own board, but the credit and link remains with the original account that uploaded it. This is why the more repins the higher the chances of new engagement to your account. As this platform is predominantly photo-oriented it can be a good social media site to choose from for showrooms that want to give potential customers visuals of the showrooms themselves.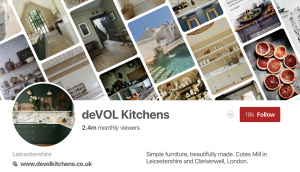 Also, Pinterest offers a different layout from any other social media site due to the idea of boards. Boards allow users to group images together if they have relevance to each other.
For showrooms this could be helpful as, for example, different kitchen ranges can be separated. By comparison with the likes of Twitter and Instagram, Pinterest isn't as well known, however it is very much on the rise particularly for businesses wanting to market themselves due to it being so image-oriented.
DeVOL Kitchens has 2.5 million monthly visits with 17,000 followers and is the leading showroom on Pinterest by far. The Leicestershire-based company has many pins showcasing its kitchens. These pins have a lot of variety and are not solely focused on kitchen showrooms. Also DeVOL's content is of a very high standard with crisp images.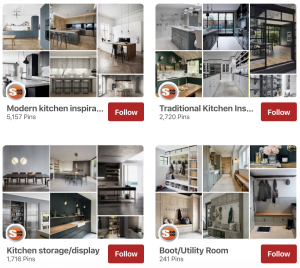 It has 50 boards with a total of 11,600 pins. This dedication is the reason for the huge 2.5 million monthly viewers. On Pinterest the most efficient way of gaining attention is by continuously getting content up. This is why DeVOL has been so successful on Pinterest.
Another impressive account on this platform is Studio 10 Design. With more than 3,000 followers and 80,000 monthly viewers, the Derbyshire-based company has been consistently updating and adding to its profile over a long period of time. It is for this reason why it is doing such a good job.
Studio 10 also covers every element of a kitchen using different boards. Studio 10 Design has also done a good job of how the overview looks. Its bio is directly letting visitors know what it's all about.
La Galerie Design is a showroom based in the heart of Warwick. Despite having one showroom in one location, its Pinterest gets 170,000 monthly viewers. These viewers are clearly not all from near this showroom, so it shows how interesting the pins are to be attracting this many new people. La Galerie Design has also boosted the number of visitors by making its website Pinterest-friendly.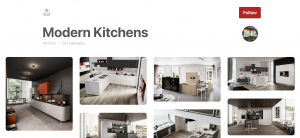 Pinterest-friendly is essentially adding clickable links to a website that links back to a Pinterest account. These can be a follow button and a 'pin it' button on the top of pictures on a website. By having these buttons, it adds clickable links that direct straight to Pinterest, and the more links the more likely visitors to the website are going to end up coming across the Pinterest page.