Ikea has confirmed the opening of more kitchen and bathroom showrooms in city centres along the lines of the planning studio that opened in London's Tottenham Court Road last month.
Reporting a "positive year" of growth for the 12 months ending August 31, Javier Quiñones, country retail manager at Ikea UK and Ireland, said the concept store – a fraction of the size of the Swedish firm's out-of-town sheds – was the start of "an exciting journey".
He said that in the future, Ikea's customers would likely meet it in "more, maybe unexpected places" as the firm saw total annual sales reach almost £2 billion – up 6% compared with last year, despite a "tough economic environment".
A greater emphasis on accessibility, convenience and enhanced services are all key contributors to Ikea's continued growth in the UK, according to Quiñones.
He said: "The way people live and shop is changing. Globally, in the future, over two-thirds of people will live in cities and today, in the UK, only 57% of people live within one-hour travel time of an Ikea store. That is why we are developing a new city-centre approach, starting with London."
Ikea said it continued to "outperform the market" in home furnishings, increasing its market share to 8.4%, up 0.4% on last year, while households continued to update their homes with new soft furnishings, textiles and decorations.
"Two years ago, we refurbished the living room department in all stores and we are still seeing strong growth off the back of this, with living room seating up 8% on last year," Quiñones added.
The Swedish firm that became famous around the world for its attractive, but affordable, flat-pack furniture said that over the past year it had opened two new large-format stores in Exeter and Sheffield, but had also invested heavily in its distribution and fulfilment network.
Two new customer delivery centres and a parcel unit will open in London soon, which the firm said will result in reduced delivery lead times and an increase of 66% in parcel deliveries.
Ikea said visitor numbers to its stores and its website continued to grow over the year, with 59.8 million visitors to Ikea stores across the UK – an increase of 4.5% – and 199.3 million visits to its website, up 13.4%. Online sales grew by 14.4% and now represent 15.5% of Ikea's total sales.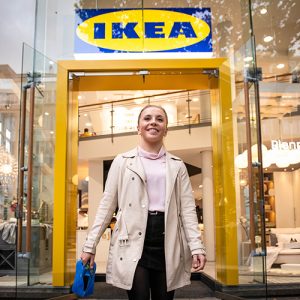 Quiñones said: "Our stores will always be an important part of the Ikea brand when it comes to inspiration, touching and feeling our products. In FY18, we continued to invest in our existing stores, including the total refurbishment of Ikea Nottingham, it's just like new. We also revamped the textiles department in Milton Keynes, giving more space for customers and co-workers to co-create together.
"However, we know that the role of the store is changing. People want to shop in a number of different ways and count on brands to offer them services that reflect the way they live. That's why we are focused on providing a seamless shopping experience and want to give our customers the choices they expect, no matter how they choose to shop with us."
Confirming Ikea's commitment to sustainability, Ikea said it had updated its People and Planet Positive strategy, outlining its sustainability commitments by 2030, with a focus on becoming a circular business, preventing waste at source, tackling climate change and championing human rights.
Quiñones said: "While we're pleased with our performance, we recognise that a challenging retail and economic environment means we need to continue to respond to our customers' needs and invest in an Ikea that is here for people, whenever and wherever they need us.
"We want to enable people to shop with us on their own terms and are committed to being a responsible business that has a positive impact on people and the planet."