Paul Gidley had big boots to fill at Cosentino when Christophe Gontier vacated the UK area director role. Alison Benson quizzes him on his strategy going forward
Filling the shoes of a successful manager is never easy, but imagine being promoted to drive the growth of a consumer-oriented business during one of the most uncertain and destabilising times in recent economic history.
That was the situation when Paul Gidley was promoted from area manager at Cosentino, responsible for the Spanish high-end worktop manufacturer's three distribution centres in the North, to UK area director on January 1 this year as the countdown to Brexit began in earnest.
His predecessor Christophe Gontier made a perfectly-timed departure for the sunnier skies of Australia to take on the position of Cosentino vice-president for Asia and Oceania after almost 11 years at the helm of the UK and Ireland business. During this time, he grew the brand in the region to 27 times the size it was when he started. 
Gontier put the firm's quartz brand, Silestone, on the map in the UK and it is now the leading brand in quartz surfaces by "still a long way", according to Gidley, despite competitors like Caesarstone chomping at the bit.
"Yes, you heard that right, Amir," Gidley cheekily chips in, referring to Amir Reske, Caesarstone's ambitious UK managing director.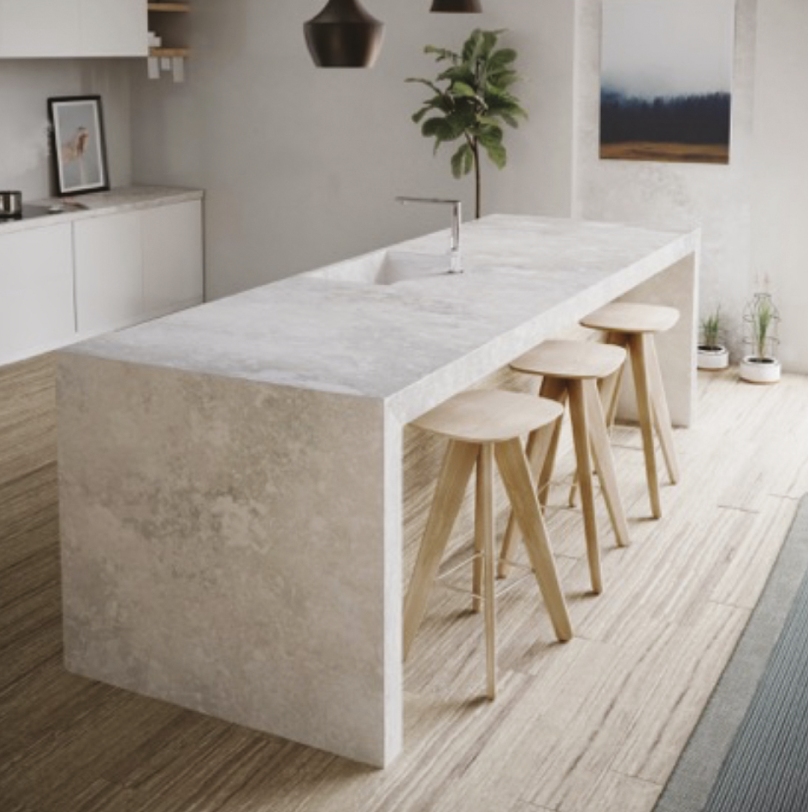 But now Gidley, who started at the family-owned Spanish firm seven years ago as a general manager for its Manchester centre, is the custodian of Cosentino in the UK and responsible for keeping a steady hand on the wheel as the country navigates a rocky path to a new era outside the European Union (EU).
Not too much pressure, then.
But, when I meet Gidley at the firm's commercial design centre in London's architectural and design heartland in Clerkenwell, he seems fairly relaxed.
"Christophe was an excellent MD and a particularly great strategist and he has left a fantastic legacy for me to build upon," Gidley explains over a particularly excellent cappuccino from the showroom's Miele coffee machine. 
"The market is getting tougher, definitely, with increased competition, but we will continue to work with our Cosentino business model, which is proven in the UK and throughout Europe and worldwide to work incredibly well – the proof being that other brands are trying to emulate it, but we are well ahead of those companies and will remain so."
I'm intrigued to find out more about Cosentino's secret business model sauce, but it turns out it's very simple – though clearly effective.
Gidley says: "The Cosentino business model is simply based upon excellent customer service. We give unrivalled service to the fabricators we sell to and the studios that stock our products through free displays, marketing materials and warranties. That's our key driver – as well as our fantastic products and innovation. 
"This is why we invested in a new distribution centre in Newmarket.  Previously, our east and west London centres were covering counties higher up the country, but weren't coping with the increasing demand, so we identified the Newmarket site to make sure we always have the best coverage. We now have seven distribution centres in mainland UK.
The real threat to Cosentino, as for all of its European rivals, is the growing penetration of cheap Chinese and Indian imitation products

Paul Gidley, UK area director, Cosentino
The Newmarket Cosentino centre cost the firm about £2 million to open, but Gidley says the investment was in accordance with Cosentino's business model.
"There are some key fabricators in Northampton and they were being serviced by London. We had to make sure they get the service they deserve."
For 2019, Cosentino will be releasing an enhanced incentive package for its 740-or-so Elite and Elite Premium network of retailers as well as a new loyalty programme for its best fabricator customers.
Gidley believes this approach is the right one to keep growing the Cosentino brand, which also produces solid work surfaces under its Dekton brand and granite worktops under Sensa, even though its core retailer market – which accounts for about 60% of the Cosentino business in the UK – has been flat since the UK voted to leave the EU more than two years ago.
"Brexit is definitely a big concern, particularly as there is still no definitive answer to what's happening. Whatever that answer may be, people will then be able to know the repercussions and plan accordingly, but with comments predicting that house prices could fall between 25% and 30% in a 'no-deal' Brexit, people are just not spending the money on their homes that they would have previously," Gidley reflects.
The uncertainty over what the UK's future trading relationship with the EU will eventually look like makes it difficult to predict what could happen to Cosentino's core markets in quartz and ultra-compact surfaces next year.
It will certainly be tough for the firm, which sells an ultra-compact worktop called Dekton and a granite collection under its Sensa brand, to replicate its 2017 success. In that year, the worktop brand, one of the market leaders in surface design and innovation, posted record sales of €901 million (£800m), up 10% adjusting for exchange rate fluctuations. Earnings before interest, tax, depreciation and amortisation (EBITDA) were up 19% to €128m.    
Gidley is still hoping for "modest growth" in 2019, supported by a brand new series of Silestone and Dekton worktops that he says reflect the growing demand for sustainable and natural materials, including marble and concrete.
"To launch our new products, we invited a number of leading architects, kitchen designers and interior designers to a round table to discuss industrial design and how it's evolving. It was clear from the discussion that the industrial look is still very much in demand, combined with a new requirement for texture."
Launching its new products, Cosentino has described its latest XGloss Stonika worktop range, which includes Bergen, Arga, Taga and Korso, as "inspired by coveted natural marble", while Cosentino's two new Silestone products were described as "offering a fresh and contemporary take on the industrial and architectural look of concrete and cement".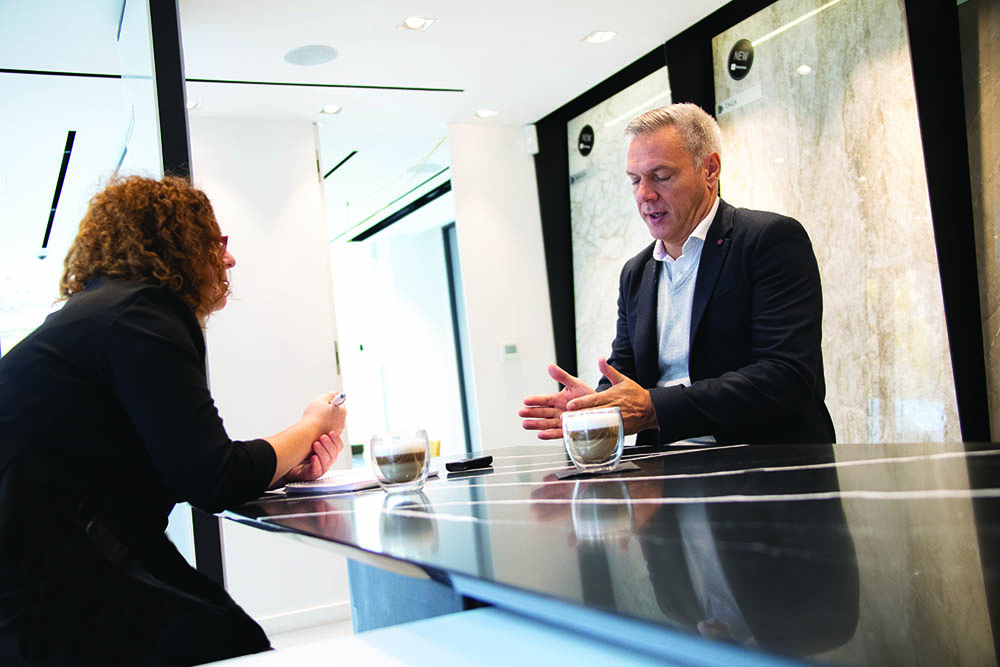 He believes that through continued innovation in colour and texture, and a 20mm product, Cosentino will be able to "attack" the laminate market, which currently accounts for about 75% of the worktop market by volume in the UK, according to a recent report by AMA Research.
Gidley says the laminate market represents more of an "opportunity" for Cosentino than a threat and the Spanish brand made some inroads in 2018, with "substantial growth" in the laminates core contracts hunting ground. 
"Offering a 20mm worktop brings our prices down, while laminates have been raising their game and producing more aesthetic products, but again that is closing the price gap, while at the same time kitchens have become more of a focal point and there is growing aspiration for a solid surface there."
The real threat to Cosentino is the same for all of its European rivals and that is the growing penetration of cheap Chinese and Indian imitation products, which Gidley puts down partially to the punitive trade tariffs the US is currently slapping on many Chinese imports.
"They probably see the UK as a buoyant market," he muses, but says that this is in no way an area where Cosentino would want to compete.
"This is a commodity market and we are not a commodity. These companies do not have our logistics; they do not have our workforce of 102 people; they don't have our service; our quality or the overall service package we can offer.
"We will continue to tweak and enhance our business model, but we will not change it."
Hopefully, Cosentino's collaborative and supportive approach with its core customers will be enough to convince them to stick with the brand after the firm introduces a 2.5% price hike across its portfolio effective in 2019.