How can KBB showrooms maximise sales and build growth? In the fourth and final of a series of articles, kbbreview asks Nathan Hopper, managing director of Simply Kitchens in Plymouth, for his tips and advice on developing a successful retail strategy
'Here's our baseline for growth…'
Nathan Hopper, managing director of Simply Kitchens, Plymouth, gives us an insight into the processes and practices that help him keep a grip on just how well his business is performing

Business is largely about getting the basics right. At Simply Kitchens, we carefully forecast our expenditure for each year in great detail and, along with our profit and loss account, this gives us a clear picture of how we are performing with each passing month.
From our forecast expenditure, we know what we have to produce in terms of revenue to break even. This naturally gives us a baseline for sales targets to which I then apply an increase to yield us our net profit. Generally, I set a year-on-year increase of around 10%.
As a team, we meet weekly for a sales meeting, we discuss all work in progress, new leads and progression of open leads. Week by week, this gives me a reasonably clear indication of how we are performing and most importantly an insight to the weeks and months ahead.
I have learnt the importance of looking forward and we run a log of the months ahead and the work already booked by value and profitability, which gives me an indication as to how we will perform. I can then use this to push for more business in any given month, or in some instances tell the team that we don't need more work in a particular month, so they can work to a preferred timeline to suit the needs of the business.
All of our leads are logged by the salesperson. We note the customer's details, account number, the source of lead, and the progress and ultimately the outcome. No-sales also have a column to note the reason for not converting, which might be 'over budget' or 'gone elsewhere'. Every year, we produce analytics by salesperson from this data. These include conversion rates, average sales values, GPM [gross processing margin – the difference between the cost of a raw commodity and the income it generates once sold], business by postcode area plus an overview of where the customers we don't gain go, or why they chose not to purchase.
One weekly meeting around the middle of each month doubles as a monthly meeting, at which we cover some additional topics. I run through the previous month's management accounts, in particular our profit and loss, and explain the gross profit, expenditure (discussing anomalies), and our net profit. We also run a live monthly cash-flow forecast, which is updated daily and discussed at our monthly meeting.
All of our meetings are annotated and minutes distributed for action and follow-up where necessary. These minutes form the structure of the subsequent meetings and points are carried forward where required. I am a true believer in transparency. I don't know what else I can do to achieve a unified team and a combined focus.
I also hold a monthly management meeting, which gives us the opportunity to review the performance of the business as a whole, where it is going and how we get it there. This meeting is all about the operational aspect of our business and covers off-performance, customer service, general legal compliance issues and a review of how the business is complying and aligning with the principles of ISO9001.
The ISO9001 model provides us with a framework to manage our business. Everything we do has a set process, which is measurable. This is also audited, so annually the business undergoes a thorough inspection by an external auditor to ensure we are operating to the expected standards of ISO9001.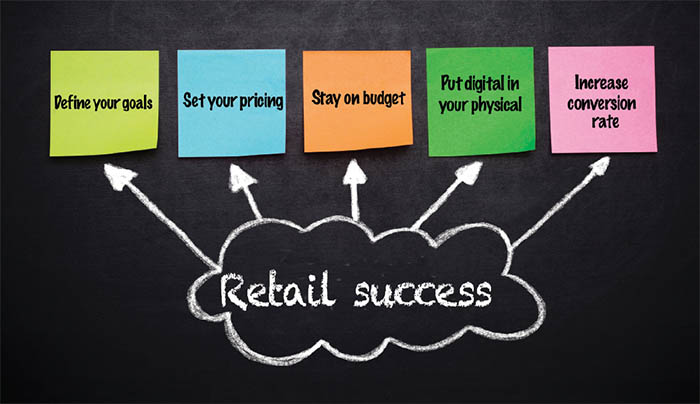 Driving footfall
When it comes to driving customers through our door, we have grown mainly through repeat business, recommendations and recognition. We measure the success of a project not by the profit we make, but the satisfaction of the customer. I can think of too many projects where we have performed terribly from a profitability perspective, but have produced a happy customer. These customers are the very best advertising and marketing tool for any retail-based business.
How do we know if they are happy? Well, we have various processes in place, which means each customer receives the same experience throughout their project and beyond. At the end of an installation, we have various bits of paperwork to complete with the customer. We complete an installation inspection/handover document that we ask the customer to sign to say that they are happy.
We also provide two customer satisfaction surveys that we leave with the customer to complete, which they can do anonymously if they wish. One of these surveys comes back to us, which is then reviewed at meetings, forms part of our analytics and provides evidence as required under the ISO9001 standards.
The second satisfaction survey is returned directly to the local Trading Standards under the local 'Buy With Confidence' scheme, which we have been actively involved with since its inception. The results of the survey are made public through the Buy With Confidence website.
Even looking after existing customers is not really enough to grow a business, so we have to look at how we drive people though our doors. In 2015, I met with a young agency that was focused on social media, website development and the power of online marketing and I have been working with them ever since.
We always have targets and objectives. Every year, I sit down and set our goals for the year ahead. These targets fall under four headings – corporate, financial, staff and subcontractors and finally customer service. Each of these categories will have the objectives and targets listed, a target date to achieve, a review process and be measured.
As an example, our customer satisfaction surveys are categorised under various headings with questions answered on a scale of one to five. We take a mean average of the score to gain an overview of how we are performing. All of these targets and objectives are reviewed at our management meetings.
Our strategy is based upon the principle of 'continuous improvement'. We are human and we make mistakes. The measures we have in place focus our attention on how we turn these into lessons for future improvement.
We are building a new 10,000sq ft showroom that will open in April. Will it work? Will it prove a mistake? I don't know, but I do know we will strive to make it work and flourish and to get better at what we do.
• Read the other articles in this Retail Strategy series: