Maybe size really does matter?
From a modest start in Kingston with four displays, Trevi Home's impressive new destination store has 29 and shows what retail theatre is all about. Chris Frankland hears more from sales and operations manager Walat Kurdi

If you listen to the experts, they all tell us that showrooms need to deliver 'retail theatre'. Some do this with special events, but in the case of Trevi Home's new three-storey, custom-built showroom in Sutton, the building and its displays are theatre all by themselves, delivering the wow factor at every turn.
Some may be surprised by such an audacious move in such uncertain times, but Trevi has a strong track record, having first opened the doors of its original Kingston showroom in 2004. It says it is the oldest Pedini dealer in the UK.
In fact, confides sales and operations manager Walat Kurdi (pictured) as we sit down at the breakfast bar of one its 12 kitchen displays (a far cry from the four displays of its old Kingston store), "we were actually the first showroom with Pedini in the UK".
Another factor led to the move, however. The row of shops and houses where they were previously located was destined to be demolished to make way for a new housing development.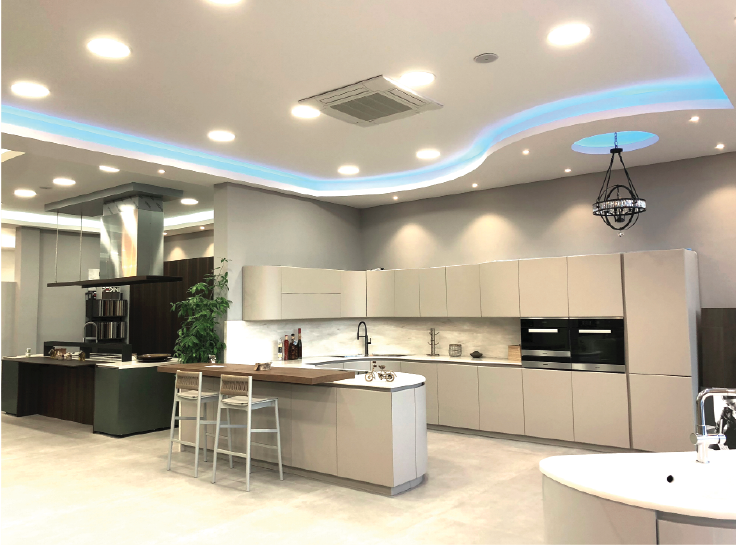 Luckily, Kurdi and Trevi owner and founder Adel al-Hussaini, were given advance notice while the builders sought planning permission and this gave them the time to find new premises.
What is now the new home for Trevi home was once a vacant lot with the overgrown ruins of an old chapel, but they saw the potential of the site, which is right on the busy A217 trunk road, close to many affluent areas such as Cheam Village, Banstead, Epsom Downs, Weybridge, Kingston and Wimbledon.
By 2014, the deal was done and they owned the site. By early 2018, the Kingston store was closed and they had moved into the new building.
"We started to work from one small office upstairs, the rest was just a shell. We kept sales going, but we had to make sure it was safe for people to come on-site."
"We could have had double the number of kitchens on display, but it would have felt more like a shop than a showroom"

Walat Kurdi, sales and operations manager, Trevi Home
Kurdi joined Trevi seven years ago, aged 21, straight from university. He tells me, as we enjoy our double espressos from a built-in Smeg coffee machine, how they developed their ideas for the vast new space. They decided to go for fewer displays and make them bigger – 6m wide.
"We could have had double the number of kitchens on display," he reflects, "but it would not have had the same effect and it would have felt more like a shop than a showroom."
But Kurdi says he knew that designing such a showroom was a different proposition from a domestic kitchen.
"We needed insight from people who were expert showroom designers," he tells me. "Pedini sent someone over from Italy. Some designs they had done in their brochures were very nice and we thought we'd like those for the showroom. In many cases we decided to imitate what was in the brochure. So when someone goes online and they see a design and say to us 'we really like that', we can show them the exact same thing – in real life. A typical showroom can't do that. We are bringing the brochures to life."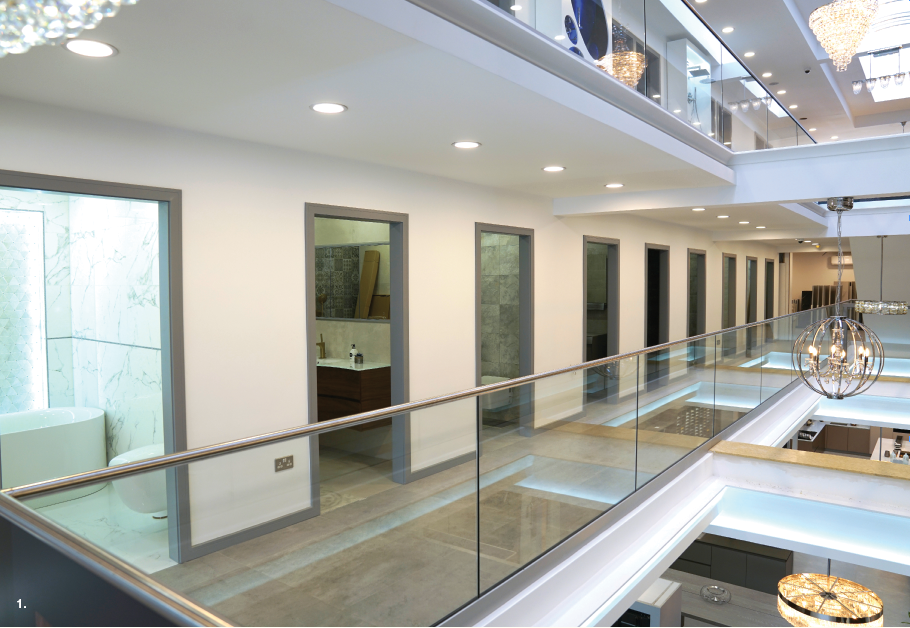 Kurdi admits it's difficult to estimate how much has been invested in the new showroom, but suggests it is at least £1 million.
"We had a lot of help from suppliers," he says, "as this is also a platform for them. Porcelanosa were very helpful, as you can imagine the cost for all of the tiles in the showroom was crazy. So they helped a lot, as did Pedini and our German own-brand kitchen supplier. And we got a lot of help with worktops from Cosentino."
The ground floor is entirely kitchens with two high-end Pedini displays taking pride of place front of house. But there are also displays of their own German-made Trevi brand, but still very much in the modern style. "Modern," Kurdi says, "is what we do best. We don't get many enquiries for shaker doors. It's also not as big an area of the market – it's the same for bathrooms. I thought about a traditional bathroom display, but I would have to do it right. It is very easy to make it look cheap."
At the far end of the ground floor, next to the play room where customers' children can keep themselves amused while their parents browse, is a display of a Trevi-branded kitchen aimed at those on a lower budget and also the contract and developer market.
"We have been doing the Trevi brand for four years, so we have a good relationship. The entry-level of Pedini, Eko, still does not cater for certain markets and its price is still quite a way above your more usual competitors. On the German-made kitchens, we looked at pricing and thought it would be a good way to compete with the usual suspects. They start out in price at £10k to £12k and we did one last week that was £9k, but that was a small kitchen. For a typical medium-sized kitchen, I'd say around £15k, including worktops and appliances.
"On Pedini, the best seller is the Artika range, that's mid-to-high in their range, and they average around £30k. The Dune range is their best and they are typically £60k."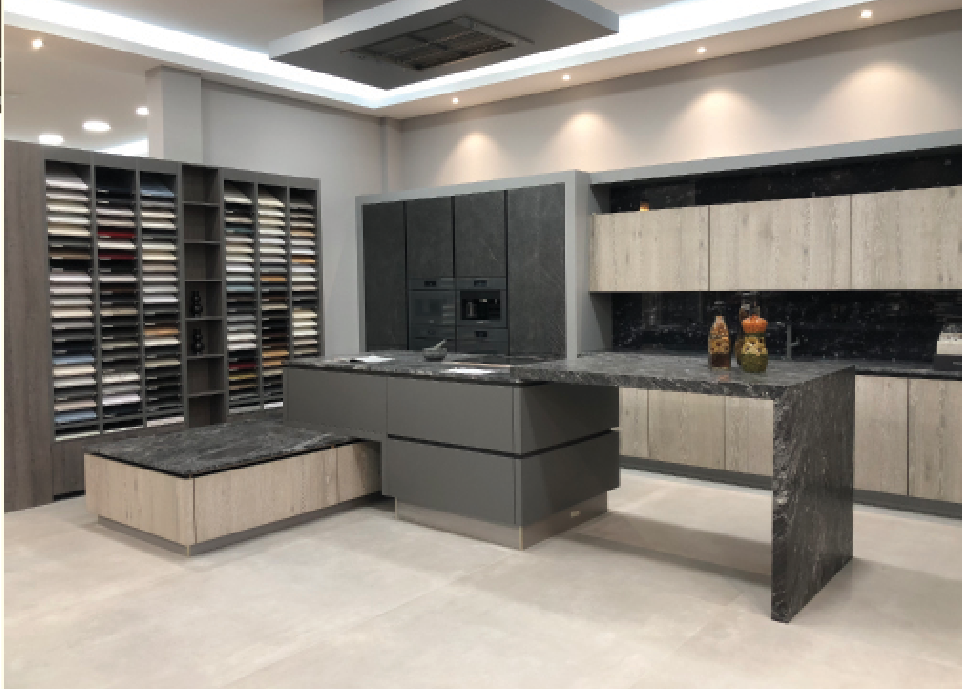 I ask if they do a lot of contract work and Kurdi says they do a fair bit and want to grow it. "We have done a development of six houses in Rayners Lane," he says, "with our entry-level German Trevi product. We are building those relationships, but if you do a good job, word of mouth spreads."
Turnover-wise, he tells me contracts account for around 20% of the company's sales. Trevi is working on three further projects as we speak (early January).
Installations are handled by subcontractors, but he points out that for Pedini, they have to be specially trained at the factory in Italy.
As you climb the impressive staircase, you can't help but admire the two enormous statement chandeliers that dominate the entrance and really catch the eye of passers-by. The first floor provides three more kitchens displays and the main bathroom display, which comprises 17 individual room sets.
Kurdi explains that although they did bathrooms in Kingston, they had no displays. "Now we can do it on a different scale. The displays you see here are ideas that I would previously describe to clients, but it was difficult for them to share my vision. Now those creations have been brought to life in 17 rooms – each with a different style, feel and character. We are able to show them what is possible.
"We also use tiles that look amazing when they are fitted – not just in a brochure. And we can show a good variety. I try to choose things you can't see everywhere [such as the aluminium tiles he shows me in one bay]."
Brands stocked are upmarket and Kurdi has tried to make sure that what he sells are "more shielded" from online. Merlyn Aristo and Matki for showering, for example, and then there's Graff brassware, Bette baths, Flaminia sanitaryware and Ashton and Bentley baths. Other brands include Geberit, Gessi, Hansgrohe and Vitra. Tiles are mainly from Porcelanosa and Cosentino.
And if it's samples you want, at the far end of the first floor there's a large area where metal floor-to-ceiling sliding doors show large tile samples, specs and lifestyle photographs of how they will look in a room setting. Trevi doesn't clutter its displays with sample boards.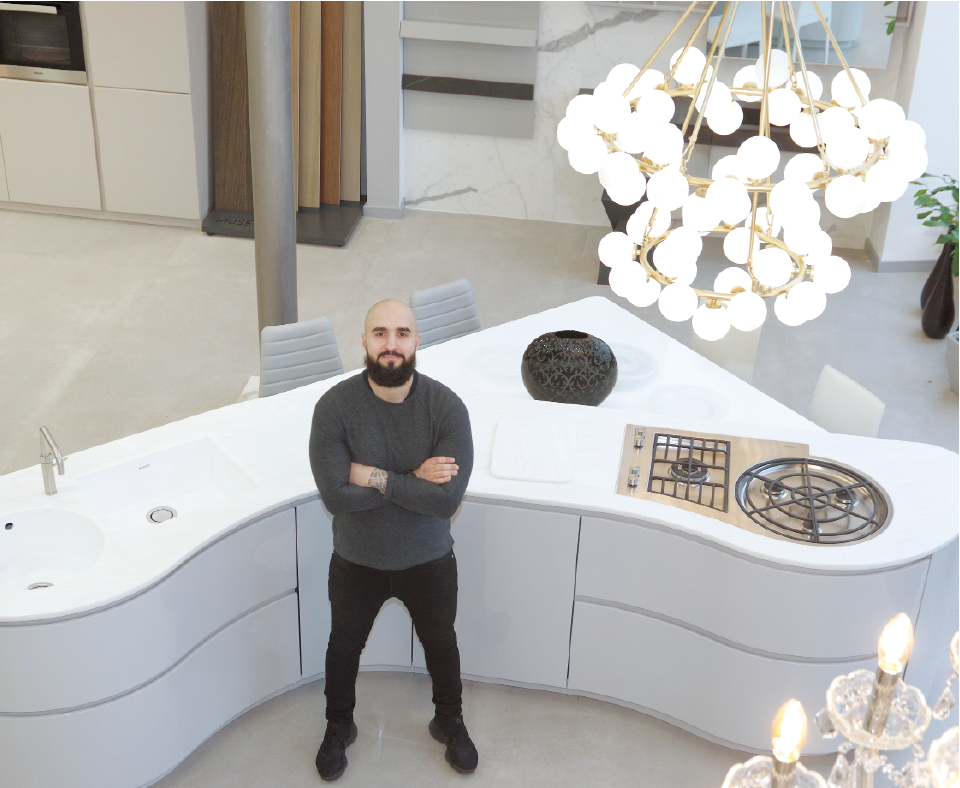 Although the showroom had a 'soft' opening in September, the grand opening was on December 6.
"It went very well – we had around 120 to 150 people," explains Kurdi. "They were selected people in the main. We had the Mayor of Sutton and some influential company directors. Smeg provided a home economist for the cookery demonstrations. The ladies from Smeg were good and it was great fun.
"We were giving up to 30% discount on everything for those who attended and lots of people have taken us up on that. It created a lot of interest. It was important to do that, as we are new and we wanted to start on a good note and welcome people in. Some people told us that when they first looked at the front of the shop, and those chandeliers, they thought we were going to be too expensive. But when they came in, they were very pleasantly surprised. Good quality and service. Pedini's entry-level Eko range is on average £15k to £25k."
Lighting is an important element and those chandeliers at the front of the store are a real talking point.
"It's a big part of the attraction of the showroom," Kurdi tells me. "It's a new venture for us. We have not displayed lighting in this manner before. We use one company – CWI in America. They are exclusive to us. Things like the chandeliers at the front – it is very rare that anyone can display those. They come in various sizes. Lighting is not our bread and butter, but it is a good add-on sale."
I ask about bedrooms as I spy on the third floor a rather large space where they should have been.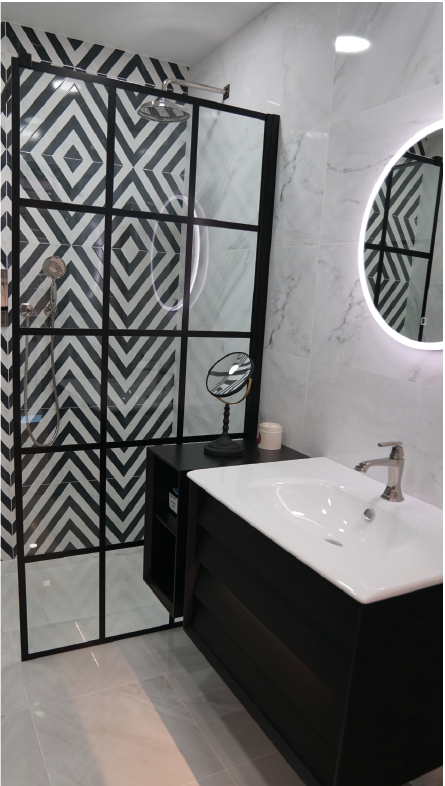 Also on the third floor are the design studios where Trevi's three designers carry out consultations using the latest 3D modelling software.
In terms of the success of the new showroom, early signs are good, says Kurdi, but he admits: "We will need to give it six months to a year to really assess that. At the end of last year, we had one month when everyone wanted a bathroom and we didn't get one kitchen enquiry. The next month, it was all kitchens and no bathrooms, but we have also seen a lot of people who end up wanting both, which is good."
For the immediate future then, it is just a case of monitoring business. Trevi uses a specialist marketing company and is active on social media to help build its profile in the digital domain to match its impressive presence in the real world.
And as in Rome, where visitors throwing coins into the Trevi fountain are reputed to be sure to return, repeat business and word of mouth also seems to keep people coming back to Trevi Home.