With uncertainty still clouding the market, why has Wayne Dance, MD of KBB distributor and retailer InHouse, just invested £2.2 million in a brand new headquarters and showroom? Tim Wallace went to meet him
The approaching Rolls Royce is a welcome sight as I shelter from the pouring rain in a pub doorway outside Newcastle train station. Wayne Dance grins and extends a hand as I climb gratefully into the passenger seat.
Owner of KBB distributor and retailer InHouse, Dance has had an anxious, but ultimately satisfying, few months. Mainly because while his competitors have been content to wait it out over Brexit, Dance has done just the opposite – embarking on the rapid construction of a 12,000 sq ft headquarters and showroom in nearby Hexham, which is what I'm here to see.
It's a bold move in such uncertain times. Bold enough, it turns out, to have also attracted the attention of a local radio station who've interviewed him the previous day.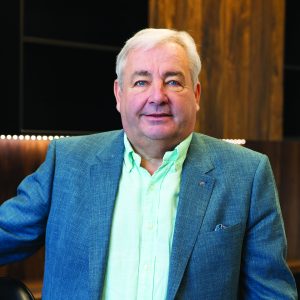 "By the time I write the last cheque, this will end up at about £2.2 million," Dance tells me. "Which is why local radio is flagging it up. Because I'm importing European products – Schüller kitchens and Pelipal bathrooms from Germany, and Aster kitchens from Italy…  They're asking why I built it when everyone else is battening down the hatches.
"My answer to that is that there won't be a no-deal Brexit. No matter how spiteful any country wants to get with customs it would be a disaster. There will be some kind of compromise that allows us to trade with each other. I'm still not 100% certain there won't be a second referendum."
But as we head off, surely there must be a nagging fear that if the EU don't play ball, the products he supplies will become harder for dealers to get hold of – and more expensive? Making them less attractive to dealers and consumers?
Apparently not – and to prove his point he refers to an e-mail he's just received from Schüller offering his dealers a four-week delivery time for products coming into the UK to allow for any customs issues.
"And Schuller has agreed to cover any rising costs of transport or delivery until there's a satisfactory conclusion," he adds, "so my dealers won't be bearing the cost."
"By the time I write the last cheque, this will end up at about £2.2m. Which is why local radio is flagging it up"
Man cave
Until now, InHouse has operated largely from Dance's sprawling gated retreat in the Northumberland countryside, which I've visited in the past. The house is big enough to house various kitchen displays as well as an indoor swimming pool and two-level 'man cave'. This boasts a full-sized snooker table and memorabilia relating to his twin other passions – Newcastle United FC and Elvis Presley.
But with the business continuing to expand, Dance has decided the time is right to build for the future and loaned £500,000 of his personal cash to the company's own fund of £1.7m to a build that has taken just seven months to complete.
Nor is he stepping down, he insists, or – as some have also claimed – switching strategy to the detriment of his dealer base.
"A lot of our competitors are trying to use the fact that InHouse has gone into retail against us," he says. "Well I've retailed kitchens for 10 years – from my house! I've made a retail turnover of a million a year from my house! We're not doing anything different. This is an extension of the dealer's own showroom. So if they want to bring their clients, they'll be made welcome. We won't be trying to muscle in."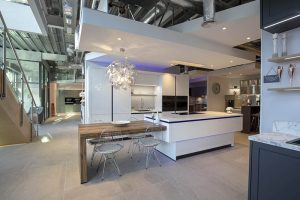 Dance hopes the new store can pull in an extra £2m to £3m of retail business every year. But the beauty of it, he explains, is that they don't need to retail a single kitchen from it to survive. The nationwide dealer network remains the focus.
My visit comes the week before the official consumer launch weekend, which saw guest appearances from Newcastle football legends Malcolm Macdonald, Bobby Moncur and Alan Foggon, all friends of Dance's.
InHouse has also dropped 20,000 leaflets in community neighbourhood letterboxes and places like the local Waitrose car park to advertise the showroom. It has also secured special customer deals from the likes of Miele and Electrolux.
"We've already had 48 walk-ins – before we've even opened," Dance smiles. "They were knocking on the bloody doors and triggering the security cameras! One woman we took round ordered a kitchen, a utility room, five bedrooms and three bathrooms. Everyone who's seen this place has just gone 'wow!' "
Arriving at the showroom I can see why. Once I'm past a spacious reception area, featuring more eye-catching football memorabilia, the ground floor is dominated by kitchen displays from Schüller and Aster while an impressive oak staircase – a mere snip at 25 grand – invites you to explore the first floor. This houses the bathroom and bedroom sets together with office space and conference facilities – another potentially lucrative revenue stream.
Wayne's son Stuart, a real chip off the old block, joins us to talk through some of the showroom's highlights – amid slightly distracting background music from the likes of AC/DC and Kings of Leon, which he describes as "ambient".
Wayne's world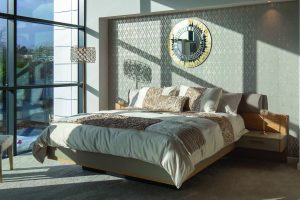 I'm particularly taken by Schüller's Vienna range in the window, a huge country kitchen display that will be used for cooking demonstrations. "We're also the sole agents for Italian appliance brand Steel," Stuart tells me. "It's expensive but it's Sub-Zero Wolf quality.
"This is an extension of a dealer's showroom," he reiterates. "It's a training facility for them and a lot of showrooms want to send their installers here."
He also laughs off rumours it will upset local dealers: "One of them is my best friend. He's told me he'll camp outside and use it as his own showroom. The other is Pol Kefton in Morpeth, who's another good friend, and far enough away for it not to be a problem."
Stuart seems as unconcerned by Brexit as his dad. "Will people stop buying Mercedes and BMWs? The people who've got money will always have it. I was in York this week and one of our dealers is inundated. I just stay positive. One of the biggest problems over the last couple of recessions is social media – there's a negative impact every time you go online.
"We wouldn't have spent all this money if we were worried about Brexit. The worst-case scenario is there will be a duty put on imports, but is it going to be enough to put people off? Has the situation with the euro stopped people buying kitchens? No, it hasn't."
But is all this business confidence reflected in their sales figures?
"We're 4% up on last year," Wayne interjects, "which is amazing. We're also 11% up on pipeline in the UK – orders that haven't been delivered."
Stuart insists the loyalty and exclusivity Schüller offers its dealers isn't always replicated with other German brands. "I don't think there's many in the industry who've got that integrity left now," he says. "We're picking up dealers from a lot of our German competitors. They're cannibalising their own network by opening somebody a mile away."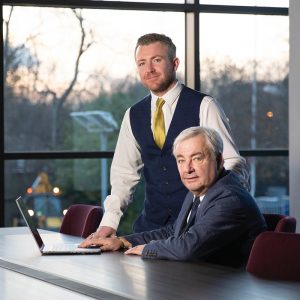 InHouse has very few Aster dealers in the UK. "We only need 20 good Aster dealers but they need to be the right ones – in big cities with the bigger budgets," Stuart explains. "Most of our Caribbean business has come just from touring around with the brochures."
Continuing our tour Stuart shows me Schuller's utility room concept – "why have we spent so long bending down to do the laundry?" Then it's on to a specially created room showing multiple door and cabinet samples of different heights and widths, together with various lighting options.
However, smart technology is notably absent. "I'd rather be ahead of the game in markets where we'll keep ahead of the game but we don't know how smart is going to do," Stuart explains.
Upstairs, the store is no less impressive. Bathroom displays are shared mainly between Vitra, Pelipal and Crosswater while there are full bedroom sets by Geha and a hotel display from Italian brand Mida.
Clearly the relationship with Schüller is likely to develop. The company is doubling its factory and expects InHouse to drive further UK growth.
"Last year we did just under £18m with them, but by 2023 they want us to be doing £25m and after that they want us, in the far distant future, to be doing £50m," Dance reveals. "Is that feasible? It is if we look at different distribution channels with different products.
"I've now discussed contract terms with Schüller to chase the likes of Berkeley Homes in the UK. Some people in this market sector want 60 to 90 days. They'll never get that off me. When I supply a builder, he pays 50% deposit and 50% a week before delivery. But if Schüller can insure the builder, and if they could possibly afford to give them those terms, there's another channel."
Dance also sees potential in buying groups, but stresses that he'd never allow himself or his dealer network to be exposed to risk.
"I've not ruled anything in or out," he tells me. "I've already spent a lot of time discovering how they work and I would always make sure that conditions are acceptable and beneficial to all parties. InHouse is a major player in our marketplace and therefore a good vehicle to partner with because of our past track record and dealer loyalty."
"We work hard and play hard. We're not nine-to-five. You send us an e-mail and we respond"
So who might he consider working with?
"Of the buying groups that potentially will enter the UK, or are already here, there are some very differing strengths and weaknesses," he says. "For sure, some will succeed more than others, but I'm not prepared to share my opinion as to which one is better or worse.
"Buying groups are coming to the UK, but the difference is the industry isn't as finely tuned as the European markets. The British mentality won't be an easy thing to counter unless it's partnered with other credible UK-based partners."
As we end our tour, I ask Dance how happy he is with the end result?
"I'm over the moon," he says. "I'm very proud of it and very proud of the team. Even in the throes of Brexit we've still managed to keep moving forward and keep going up.
"People ask why I've put so many offices in? Because I can. It's a work in progress. I've got 17 internal staff, but the office has got room for plenty more seats. I've planned for expansion."