Kingfisher, parent of DIY and KBB chain B&Q, has said it is piloting a new "convenience store" concept, which will be smaller than its retail park sheds and most likely located on urban high streets.
The news comes as the firm reported a pick-up in sales at B&Q in the UK and Ireland at the start of the year, following poor results in 2018, which led to at least 15 underperforming B&Q shops being put under review.
For the three months to end of March, sales at B&Q rose 2.8% to £1.28 billion and outgoing Kingfisher boss Véronique Laury said expectations for full-year remained the same as previous guidance.
But shares in the business fell as uncertainty remains over who will take the reins from Laury and when she will step down from her post.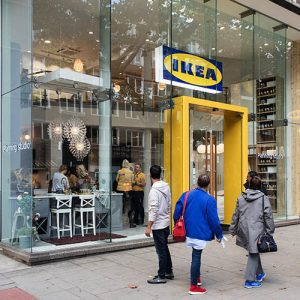 Kingfisher shares were trading at a little less than 230 pence at 12:30pm on Thursday. Before the trading statement, they had been trading at 241 pence.
Laury said the firm was "excited to be launching several new ranges this year, which are unique to us and will further differentiate us from our competitors, including surfaces and décor and bathrooms across the group, and kitchens in B&Q."
She added: "At this early stage of the year, our expectations for the full year are unchanged, and we remain confident in our ability to deliver significant financial benefits over time."
She said more information about GoodHome by B&Q would be revealed at a press event in London on Thursday (May 16).
As a group, Kingfisher sales were up 1.7% to £2.8bn during the period, boosted by sales of "unified and unique ranges". The group also owns tool specialist chain Screwfix (where sales were up by 4.5% LFL to £433 million).
Kingfisher is in the middle of a massive transformation project affecting the entire group.
Bringing home improvement to the high street is also one aspect of Ikea's new business strategy, with two KBB studios opened in the past few months.