Premium German appliance maker Miele has announced that it is reacting to the changing marketplace and has acknowledged the "urgent need for action" with a new management structure and measures to improve efficiency.
It points to the strong growth in the significance of digital channels and mobile devices, the "increasingly aggressive behaviour of Asian corporations" and the fact that "economic prospects in important markers are greatly subdued… triggered by familiar geopolitical conflicts and risks to which no end is in sight".
The plan will see the Gütersloh-based family-owned company, which has a turnover of around €4.16 billion (£3.59bn) and 20,200 employees (FY 2018/19) create a new management structure to "strengthen entrepreneurial mind-set", but it will mean the loss of 1,070 jobs by the end of 2021, with 650 more to go by the end of 2025.
Miele said that it would implement a "greater focus on new business fields and on increased speed and flexibility in developing new products and services. At the same time, the company will realign in the fields of administration and sales with a view to greater growth, optimise its processes in all areas and hence achieve greater latitude in terms of costs and prices".
In line with Miele's Design2Excellence (D2E) programme outlined a year ago, the operating business is to be bundled into eight business units.
The new structure will see management of individual units given full decision-making powers with respect to their value-creation chains. These are answerable to the executive board with respect to turnover, costs and profitability. This gives greater power to managers and makes for shorter lines of command and decision-making. With respect to commercial machines and in the field of medical technology, it is also planned for the respective business unit to assume responsibility for worldwide sales and service at foreign sales subsidiaries.
A 'New Growth Factory' business unit has been created to identify new fields of business to help it move beyond its core business areas.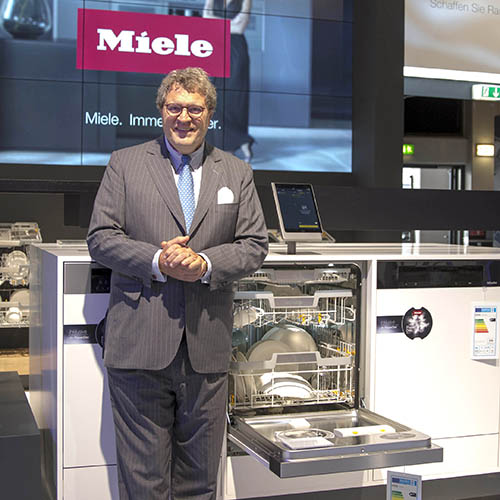 Miele will also restructure its sales units worldwide to exploit the potential of new markets and cash in on regional synergies. China, the USA and Canada will in future report directly to the executive board.
And finally, digital marketing, e-commerce and digital analytics will be merged into one unit at the group's new Digital Hub for Marketing and Sales in Amsterdam.
Miele said that it will need to make savings of €190 million (£164m) a year, which will be achieved predominantly by reductions in material costs and personnel, avoiding "parallel structures" and pooling resources in sales, service, logistics, IT and financial operations.
Around 240 jobs could be shed in Germany by the end of 2021, mainly in Gütersloh, with a further 830 outside Germany. A further 650 jobs will go at its Gütersloh washing machine plant by the end of 2025.
But it plans to create a further 470 jobs to help strengthen its digital expertise and exploit new business fields.
Miele's two executive directors and co-proprietors, Dr Markus Miele and Dr Reinhard Zinkann, said: "Implementing the proposed changes will be a tour de force that will only be possible with the support and the backing of the workforce… We are all making an essential contribution to sustainably securing Miele's standing as the sound, strong and independent family-owned company it is today."