In an exclusive interview with kbbreview, Stuart Cook, chief executive of Combined Independent Holdings (CIH), said local retail has never been stronger and reported that sales post-Covid at the buying group were significantly ahead of the same period last year.
CIH is part of the Euronics buying group. Cook revealed that its electrical retail members have experienced strong sales during and after lockdown.
Cook said that during April and May, the buying group delivered around 70% of the goods it would normally have done. In March, the freezer buying frenzy saw sales rise by 100%, meaning a growth of 37% year on year. Moving into June, sales were up 25% on the same month in 2019, July was up 69%, August was up 50% – and he predicted that September would also be up by around 50%.
Cook added: "I am fed up with hearing online, online, online and 'all you little retailers are dead'. That is not the picture that we are seeing at the moment. So I'd just like to say that local retail is not dead, it has never been stronger."
He added that during lockdown, 90% of his retail members remained open and kept trading behind closed doors with doorstep deliveries until installations were later permitted again.
Amanda Gray, a partner at Euronics retailer Sound & Vision Electronics in Frinton-on-Sea, Essex, said of their reopening: "We experienced our busiest day's retail trading in 50 years, which was comforting as we had no idea what to expect. Before we reopened, we managed with telesales and processed Euronics web orders, which allowed us to provide a service for our community, many of whom are elderly and shielding, from behind closed doors. The best part of this awful experience has been welcoming back our customers. Their loyalty and support has demonstrated the need for our services. And we were supported from behind the scenes by our Euronics family – we were all in this together."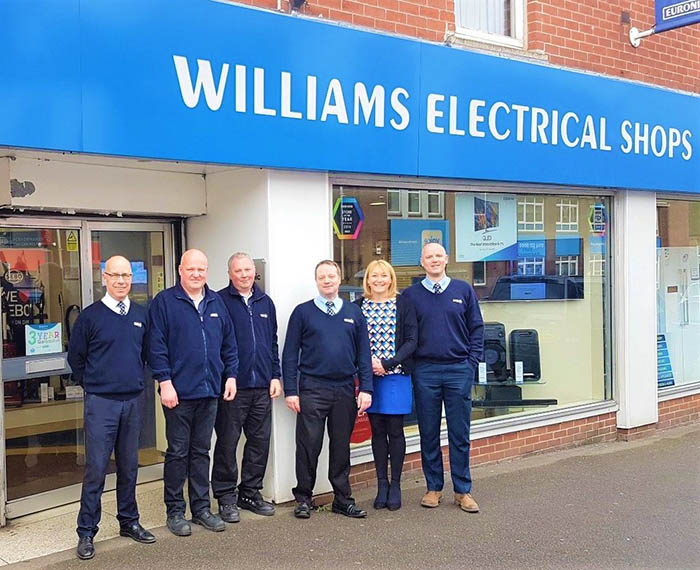 At Williams Electrical in Sheffield, operations director Richard Putland described his store's journey from lockdown to reopening: "We carried on serving our community during lockdown through online and telephone sales, with just two members of staff holding the fort. We were so fortunate to have Euronics backing us up, with stock availability and regular deliveries, plus lots of help and advice when it came time to reopen.
'Since June 15, we have been incredibly busy and are seeing lots of new faces coming into the store. We've definitely noticed a shift towards supporting local stores and lots of customers have mentioned how glad they are that we are always around to help.
"Williams Electrical has been a part of this community for 115 years and we couldn't have done that without the support of our loyal customers, as well as CIH and Euronics. Being a Euronics member gives us the confidence to invest in our business for the future."
Lucy Schulz, manager at Cee-Jay in Leighton Buzzard, Bedfordshire, also reported good sales. She said: "We had the busiest two weeks in a long time. It is fantastic to feel the support of our local community. Euronics has been incredibly supportive."
Cook outlined the ways that the buying group helped its members through this difficult period: "We did a weekly newsletter telling the membership about the current status of the business and working through the government directives and concerns. We supported whoever needed support with guidance on what they were and weren't allowed to do regarding installations. We supplied PPE packs that contained everything they needed, including sneeze guards and sanitising stations. We held their hands the whole way."
Cook added: " We gave advice on furloughing staff, rates and VAT extensions, rebates. And we worked alongside [independent electrical retailers association] Retra to constantly provide them with updates. There still is a lot of unnecessary red tape and confusion. It was a tough time."
But Cook added that sales would have been even better if it hadn't been for supply chain problems. He told kbbreview: "We would be 100% up on last year if I could get the product. Our members are going crazy at us. If you take dishwashers, there is not a sign of a dishwasher from any supplier. I have been on a couple of shop visits and I have never seen so many holes in displays in my life. It is a real problem getting stock."
However, Cook is confident in his outlook for the remainder of 2020. He predicted: "To be honest, I can't see any reason at the moment that this [increase in sales] will not carry on until Christmas."
And finally, he gave us his tip for what could potentially be a hot new sales category this autumn and winter – space heaters, which retailers could sell not only to consumers but also pubs, cafés and restaurants. He said he was already looking at possible sources of supply for these products.