Malcolm Scott, the corporate chair of the KBSA, highlights the excellent free training provided by many manufacturers and looks at the impact of the 'new normal' on the appliance supply chain
Training for our industry is about more than high-level courses, it is about activities that make the whole industry more responsive to consumer needs. While Covid has disrupted this, many leading manufacturers have substantial training programmes providing high-quality product training, which usually involves generic product category information.
As corporate chairperson for the KBSA, I have personally attended many exceptional training venues that provide regular, free training to sales staff, design staff and fitters in our industry.
The Miele Experience Centre in Oxford (pictured) is extremely well-equipped and provides first-class training. The Blum Experience Centre in Milton Keynes also provides excellent training . The Bosch Academy and the Neff Training Centre at Milton Keynes have provided training to kitchen retailers for many years. The Whirlpool Experience Centre in Peterborough has provided many hours of quality product training to large numbers of retailers. Many other leading brands, such as Beko, Rangemaster, Franke, Omega, Mereway and Smeg, have very good training facilities.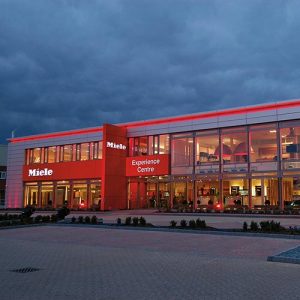 Staff at my employer, Swift Electrical, regularly attend high-quality customised online training courses hosted by leading brands such as Bosch, Franke, Whirlpool, Smeg and Insinkerator. Organisations such as Symphony Kitchens work with Wilsonart to provide online training packages for fitters as well as maintaining a large, well-equipped training facility for salespersons and designers at their head office in Barnsley.
Kitchen retailer Renée Mascari continues to provide design courses, while Simon Acres Training offers training in all aspects of the industry. YTA training includes various courses for fitters, The Central Building Academy in Coventry and the Construction Skills College in Stoke on Trent, along with many such local colleges, run courses for fitters.
Clearly there is a need for as much training as possible, but there is a lot of good-quality training already available for those who choose to seek it out.
Appliances – the new normal?
There is a lot of talk about it – but what exactly is the 'new normal'?
High consumer demand, low consumer expectations, perpetual supply chain issues, a massive increase in regulations and a lack of available fitters!
Looking first at the supply of appliances to retailers, the traditional 'just-in-time ordering' routines adopted by many retailers is no longer working. Big manufacturers like Electrolux, Whirlpool, BSH and Smeg have overcome issues of social distancing and component shortages to considerably increase factory output. Consumer demand has, however, raced ahead of these output increases, with significant anecdotal evidence that consumer spending destined for overseas holidays and the like has been diverted to home improvement and buying new appliances.
Over the past 12 weeks, most leading brands have reported sales considerably higher than the same period last year. Delivery lead times from the factory to the retailer have also increased as international road freight companies have reduced capacity due to Covid-related issues, forcing some brands to send goods by slower rail transport. Attempts by appliance manufacturers to increase capacity more quickly have been hampered by the need to delete existing models and introduce new ones to meet a raft of new energy regulations.
As appliance manufacturers do not have sufficient stock to meet current orders, most manufacturers are currently ignoring forward orders until seven days before the requested delivery date – orders don't even enter the queue until a week before they are needed. Getting a full set of appliances from any brand in a single delivery has become very rare. Most brands now despatch whatever is available straight away, with balances trickling in over the next month. Those retailers without storage space currently only have one option – source from a distributor who will store and accumulate the set ready for supply as a full set.
The picture for sinks and taps is considerably better, with Franke having very few supply issues over a very large portfolio and Insinkerator only having isolated issues. There are, however, considerable delays in the supply of selected Perrin and Rowe taps.
With reports of availability issues right across the kitchen products supply chain, from furniture and work surfaces to appliances and sinks, many organisations are devoting huge amounts of management time to stock allocation in an effort to ensure that contractual obligations and balances needed to complete kitchens take priority over opportunist stockholding orders.
On a positive note, most KBSA members are reporting strong order books, while house building seems to be back on track. Many of the retailers at Sirius and Euronics are reporting very positive third-quarter results.
The message in these troubled times must surely be that there are opportunities, but that supply chain management and early ordering are more important than ever.