Since our last visit to kitchen and bedroom furniture manufacturer Getley in Stafford in 2016, the company has grown so rapidly that it has had to open a second factory. Chris Frankland talked to CEO Mark Getley (left), MD Paul Bryan (centre) and marketing director Dan Hughes (right) to find out more
We are accustomed to hearing that UK manufacturing is not what it used to be, but one British kitchen and bedroom furniture manufacturer has managed to buck the trend and grown consistently since it first started back in 2009. 
CEO Mark Getley and his wife Emanuela originally ran their own kitchen studio and had become so dissatisfied with the service they were getting from their suppliers that they took the bold step of getting a bank loan and setting up their own manufacturing business producing traditional in-frame and lay-on shaker style kitchens.
And they came up with a unique proposition. Retailers would order their chosen doors from PWS or Burbidge and get them sent to Getley to hang on their cabinets. The completed kitchen would then be sent by Getley directly wherever the retailer wanted, saving them the costs of warehousing and onward transport.
At the kbb2020 show, Getley added a new brand to its portfolio – Alku by Getley as it then was, or simply Alku, as it is now known.
Alku is a more bespoke product, offering custom sizes and bespoke details and custom-painting. And again, Getley would deliver where it was needed on the day it was needed.
Then came the pandemic. But despite Covid with its lockdowns and store closures, the company has grown rapidly, so much so that at one point it had to introduce night shifts just to keep up with demand. From a turnover of £4.5 million when we last visited them in 2015, the company is now forecasting £7m for 2021.
Its retail customer base has also grown by 50% from around 200 in 2015 to 300 now, with 180 of those placing regular monthly orders. No wonder, then, that its existing factory was struggling to keep up, and this is why we are visiting Getley again now [early December 2021] to have a look around its new 13,000sq ft factory in nearby Hixon. Why there? Because it was not possible to extend the existing factory in Stafford and because there was nothing suitable any closer.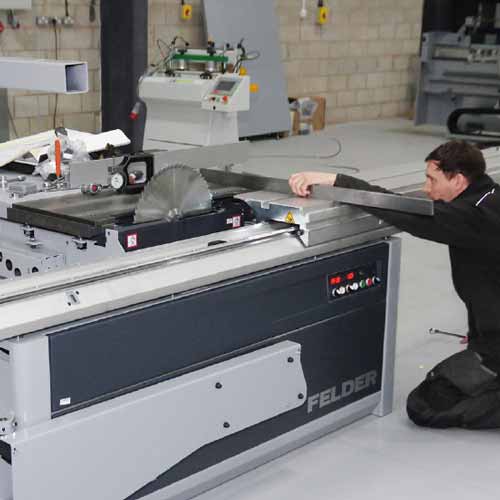 Bespoke
The new factory will have all the CNC machines and edge banders you would expect to find, as well as its own spraying facility, but it will also have a full set of joinery machines that will allow it to manufacture its own doors, in-fill panels, corner posts, mouldings, cornices and pelmets that the more bespoke Alku range will need.
We had hoped to see a fully operational factory as much as Getley had hoped to have one by the time of our visit. Unfortunately, the worldwide semi-conductor shortage meant that supply of the machines they needed was delayed, and so there were a few empty spaces on the factory floor where new machinery should have been. Getley is now expecting the factory to be fully operational by the end of January. On the plus side, it does help to show the scale of the new manufacturing facility.
As CEO Mark Getley explains: "The new site will be focused around Alku. And it will be manufacturing Alku cabinets, Alku doors and we will have our own spraying facilities there."
And it will also offer more bespoke capabilities. Marketing director Dan Hughes elaborates: "The new factory has a lot more bespoke manufacturing capability. We have spindle moulders and everything that we need to manufacture very bespoke items that are more geared to what the Alku brand is all about. It's a more complete offering rather than relying on XYZ manufacturers to supply us with items. If we see a gap in the market, we can prototype it, manufacture it at that site and then we can spray it any colour we like. We control the direction we want to go."
Traditional in-frame and lay-on shaker kitchens are something that British manufacturers have specialised in and something that's different from what the German manufacturers offer. And so Getley sees Alku as sitting perfectly alongside the German offering for customers who do not want a modern slab-style kitchen.
"Where we sit is alongside the Germans," says Hughes. "We want to complement studios that to this point have been solus German and are looking for traditional in-frame and lay-on shaker kitchens. We are not looking for them to replace modern slab doors with ourselves.
"German kitchens are very well made, you can't knock them. But because we aren't the behemoths they are, we can respond much quicker to changes in style, add bespoke things and manufacture in a greater range of colours."
And part of the appeal of a British-made product is shorter lead times. Before the pandemic and its knock-on effects, Getley could ship within two to three weeks, but that has slipped to five with the double-whammy of Covid and increased demand.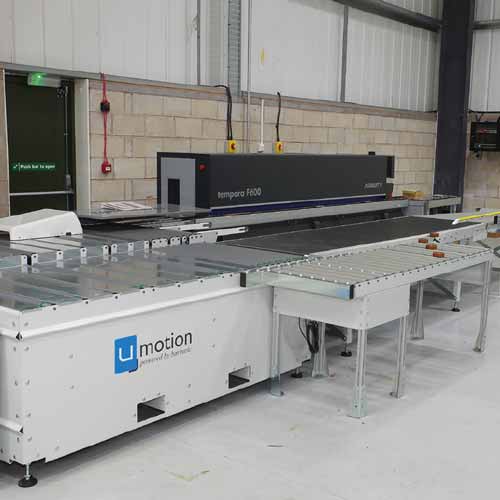 Capacity
CEO Getley explains: "We had to do some very clever things to expand capacity. Back in 2015, we were doing night shifts, but Paul [Bryan] has changed that by introducing shift work. The teams do four days on and four days off and that has worked extremely well. And that increased our capacity, although our lead times have slipped over the past six months as demand has been at a record high.
"Everybody's lead times slipped and I don't think it mattered too much to most retailers, as they haven't had the installers anyway. As long as you stick to the date that you have promised, that is what's key. Not delivering on time is the problem."
And he confirms that demand has increased by around 37% over the past 12 months and that this uptick looks set to continue into 2022.
Hughes reiterates that demand is there for a traditional product such as Alku. He says: "There are people who want a traditional kitchen. They do not want a German kitchen. Most studios selling German style kitchens are very professional, and they have probably had this type of customer come in as a recommendation, and if they can't offer them the product they are looking for, and then try to sell them something they don't want, they'll have an uphill battle. But if they can say, 'we also do this, which is British and is exactly what you are looking for and it has all the embellishments and bells and whistles that go along with a traditional British kitchen', it's a sale made. And that is where we are focusing – professional, mid-level guys selling a German product who are already used to designing."
One promise Getley does make to its kitchen studios is exclusivity. "We are very fierce on protecting dealer areas. We won't open two studios 15 minutes from each other. That's not going to happen."
But as manufacturing capacity from the new Alku factory ramps up, production is expected to leap from 93 kitchens a week to 140. So that means they will be looking to take on more retailers.
CEO Getley confirms: "We are looking for organic growth. We are looking to get Alku to full capacity and maybe in the next four or five years combine the production facilities of the two. That would give us another 40 to 50 kitchens worth of capacity. We would probably be looking at taking on around another 20 to 30 retailers."
The complete Getley range at present accounts for the lion's share of production, with a split of 85% Getley and 15% Alku. But over the next four to five years, as production increases, Getley expects that will be more like 50:50.
With Alku, Getley aims to provide the retailer with everything they need in one package. And to this end it has expanded its range of design-led handles, will soon manufacture its own doors and be offering Blanco sinks and taps. In addition to that, it has plans to supply De Dietrich appliances and even worktops.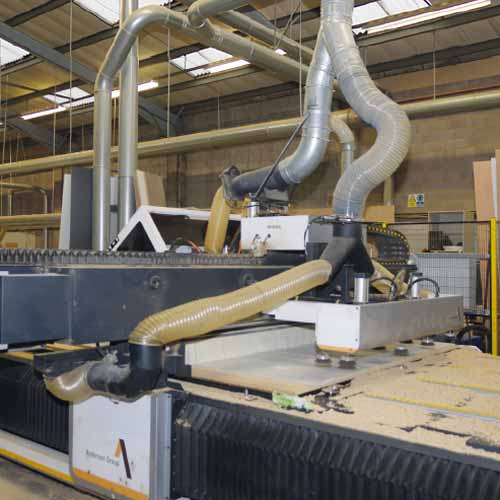 Hughes explains: "We are looking to offer those as more of a service rather than something we will get rich on. On the stone side, retailers will have their own suppliers, but if you have a modern laminate-faced door and you want the worktop to match, there is a big gap in the UK market. We are pushing our suppliers hard to catch up with what is available in Europe. Lots of the sheet laminate materials are not available as worktops. It's all about giving retailers everything they need to be ordered from one place and delivered to one address on the day it is needed."
I ask whether Getley also supplies straight to developers for retailers who do contract work. MD Bryan says: "Yes. We like to deal with projects of 10 to 12 rather than hundreds and we do regularly find ourselves delivering on-site. But we never sell direct to the developers, it is always through one of our network of retailers."
So, what Alku products will Getley be showing at kbb Birmingham 2022?
"The front part of the display," says Hughes, "will be a very traditional in-frame in a very nice green that is all the rage at the moment. Beyond that will be the new home-office furniture, behind wing doors, and that will lead into a sitting room type area with a sofa, TV units and wall displays. At the back will be bedroom furniture and a second more modern handleless display, then a small bathroom display with a washstand."
Hughes explains how it intends to branch out into home office and bathroom furniture: "We currently have kitchens and bedrooms under the Alku umbrella. We will be bringing in home offices in the next few months.
"Bathrooms will follow shortly after. We are moving away from the full fitted bathroom – it is going to be more bespoke, freestanding washstands in modern and traditional styles, and then once that has been done, we will move into home furniture – pieces of furniture that suit the open-plan lifestyle. Media units, display furniture, occasional tables, seating areas, etc."
Looking to the future, CEO Getley confirms the intention to supply appliances and worktops and says he is aiming for turnover to grow to around £10m. And he smiles when he tells me that he has also been looking at the American market, where he sees consumers having "an affinity with British products".
GETLEY: KEY FACTS 
• Founded by Mark and Emanuela Getley in 2015
• Paul Bryan promoted from operations director to MD in 2019
• Number of employees: 67
• Turnover 2020/21: £7 million (est)
• Current production: 93 kitchens / 1,200 cabinets per week
• Current retailer base: 300, with 180 ordering every month
• New Hixon factory adds 13,000sq ft and will ramp up production to 140 kitchen a week, or 2,000 cabinets