'We stick to what we're good at'
Catchpole & Rye has been making its bespoke, high quality cast-iron roll-top and freestanding copper baths and luxury sanitaryware since 1990, but has now branched out into high-street retailing with the opening of a new showroom in Tunbridge Wells. Chris Frankland talks to managing director Tony O'Donnell about the business and his latest venture.
It is not every day you come across a retailer/manufacturer with such a clear view of what their market is and how they can best serve it. But I got that clarity when I met Tony O'Donnell at Catchpole & Rye in the heart of Kent. 
Such singlemindedness has served Catchpole & Rye well. O'Donnell knows the company's strengths and what it is best at. "We stick to what we're good at," he tells me. "We don't dilute the message. We think we are the best at that and we don't do what we are not good at."
And what is it that Catchpole & Rye is good at? Established in 1990, it is a bespoke maker of high-quality cast-iron and copper baths, although it also makes cisterns, cast-iron basins and shower frames. It has its baths made at a nearby foundry in Ashford, where they are pouring the baths in the same way they have for the past 100 years. In fact, O'Donnell points out that the original Bain de Bateau bath was made over 120 years ago and it is still made the same way. Once they leave the foundry, they are painted, finished and enamelled in-house by Catchpole & Rye's own craftsmen.
It also supplies luxury sanitaryware and ceramics. Sinks are sourced either from Silverdale in the UK or from Italy. Mind you, having just acquired a local engineering company, it is thinking about the possibility of making taps.
"We've just bought an engineering company," O'Donnell, explains "so we're going to make a lot more brassware than we do. We had a partner company in Birmingham, but now we have our own and we hope to bring as much in house as we can. We have electroplating facilities and so it will give us more options and finishes."
It's genuinely impressive to see a small company doing so much manufacturing itself, but that, of course, is all part of what makes its bespoke collection of products what it is.
Bespoke
"If you want a bespoke item, where do you go?" O'Donnell asks. "There's very little opportunity in the UK. Of course, there's a lot of product calling itself bespoke these days and we want to differentiate ourselves, because we do actually make the thing. And make it to order, in the finish you want, specifically for you. There's nobody else really in the bathroom world that is doing that. That's what we do. It is a unique offering. Tell me another company that will make you a bath with your family coat of arms on it."
So how did it all start?
"It began in 1990," O'Donnell recalls:  "We basically went to get an antique bath renovated and couldn't get it done and it all started from there. It was for my own personal use. I went round salvage yards looking at antique baths and taps and got a bit of a bug for it. Then I started getting involved in antique products and developed replicas and new products. Most of the products we have now have their original in an antique we would have seen, whether in its design or functionality."
But it wasn't until the mid-1990s that O'Donnell decided to manufacture baths himself. "With antiques, it's difficult to get two the same and once you've sold it, it's gone," he explains. By making them new, you can correct defects and make them uniform – make the apertures for waste and overflow the correct sizes for modern plumbing. With antique items, you may end up having to get things specifically engineered for them.
"It was easier to do that and you can sell them in quantity if you have the pattern. So we chose original items that we thought would be worth replicating and would suit the market."
He reveals that they often use old antique baths to make a mould for a new one, such as the Niederbronn.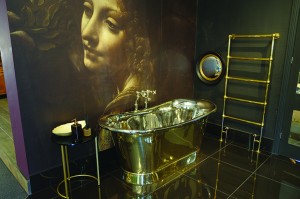 "We used one we bought 20 years ago as the pattern, although we have made modifications to help in lifting it as it weighs a couple of hundred kilos. And we are still using the original bath in the foundry."
So why are KBB experts these days always advising businesses to offer a personalised service?
"It's just the way it's evolved," he says. "Because we make it, we can make it the way you want it. We do not mass-produce, we make to order and so we can offer what others can't. If you want it longer, we will investigate that and we are regularly challenged by customers.
"We have the raw casting and then someone might ask for it painted or polished in a particular way. They might ask for their coat of arms and then we'll carve it and change the bath pattern and cast it into it at the foundry.
"We do that sort of thing pretty regularly. We sell hundreds of toilet cisterns with people's names and addresses on them and coats of arms – it is a big facet of the business. We do it for restaurants, too"
But Catchpole & Rye is not just a manufacturer. There is a retail side to its business, too.
There is a showroom at the Pluckley base, which it opened in 1999 – and a very attractive one, as you can see from our photographs. But it is off the beaten track, to put it mildly. It has no passing trade at all and, as O'Donnell puts it, "it's a good bull**it detector – anyone who turns up here is definitely interested".
At the end of 2013, Catchpole & Rye opened its showroom in Fulham Road in Chelsea. So what was the thinking behind that?
"We thought it was a necessary progression. To go forward, we felt you had to be in London's design hub," explains O'Donnell. "We get a lot of international clients there, too. In April, our three biggest sales [to private individuals] were to New Zealand, Australia and Iceland. We do quite a few boutique hotels – we did the Artist Residence in Pimlico, where we supplied products for 10 rooms.
"London also gave us a business model on how to run a showroom. London has worked well, and we now know how the showroom model works – and there is plenty of business to be had.
"Now we are doing a second one in a regional town, and if that does what we expect it to, we hope to roll that out a bit more in the future."
The new Tunbridge Wells showroom opened on June 1 and this is a new undertaking for Catchpole & Rye, located as it is in a high-street location. O'Donnell explains that while the London showroom is more of a B2B operation, aimed fairly and squarely at specifiers and architects, the new two-floor, 3,500sq ft Tunbridge Wells showroom is aimed at retail customers and private clients.
Ambitions
And to make sure it got off to a good start, it held a grand opening event on June 1.
"We had the Mayor of Tunbridge Wells open it," says head of marketing Rita Rendo-Castro. "We invited the local press, too. We put some loose insert ads into some local magazines that looked like an invitation with an offer of a 15% discount. So we had a good regional push for that event."
Opening the London showroom more than doubled turnover to £3 million. And O'Donnell says he expects Tunbridge Wells to add another £1.5m to that.
So will that be the end of their retail ambitions, or does he plan further expansion?
You bet he does. In fact, he's looking to open a further three showrooms over the next five years. "We've looked at a few other locations, but we are not committed to anything," he says. "We'd probably stay in the south, so we can provide backup. We did seriously consider Edinburgh, but it's the backup – what do you do when someone gets a leaking tap? And no matter what, you won't have taken everything into consideration."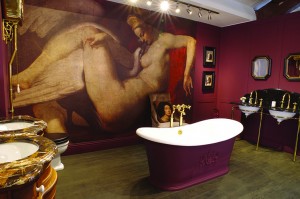 To facilitate that, Catchpole & Rye has expanded its Pluckley base with the addition of a 10,000sq ft building over two floors. This will give it a lot more storage space and may allow them to move the engineering operation there, although O'Donnell realises that CNC machines don't like being moved, so that may not happen.
I ask O'Donnell if the recession had any effect on Catchpole & Rye. "None whatsoever," he claims. "We didn't even notice it! We are not in that market. But we are affected by other things – such as bonus cutbacks in the city."
And would he ever consider introducing a more affordable range of products in the future?
He answers without hesitation: "No. In fact, we're thinking of going the other way and putting in a premium range. A much higher range – the specification will be an awful lot higher. The market is there.
"Now we're at £4,000 to £7,000. People perceive you to be competing at a level, they assume that other people are doing the same quality of products as us, which they're not. So we need to differentiate ourselves from that. This is why we are developing this premium range at the moment. We have some very interesting things planned. We don't even know the prices yet. So we will definitely be smartening up rather than dumbing down."
And so what are his plans for the future?
O'Donnell is adamant: "You have got to be careful not to dilute your offering and lose the message. We have to keep the core principle of providing a bespoke one-to-one service and that doesn't diminish just because you are getting busier.
"This is why we have built up a bigger capability than we need at the moment. We are planning possibly a foundry of our own and we have acquired that engineering company to help us do more in-house. You try to cover all the bases.
"We try to get it across that it is all made here and I think Catchpole & Rye Kent is a good brand. A lot of companies say their products are artisanal and handmade when, in fact, they're not."
Would he diversify into any different areas?
"Not really, no. I think we will just consolidate where we are. We will look to expand our range and broaden it out. We'll stick to what we're good at. More of it and better."