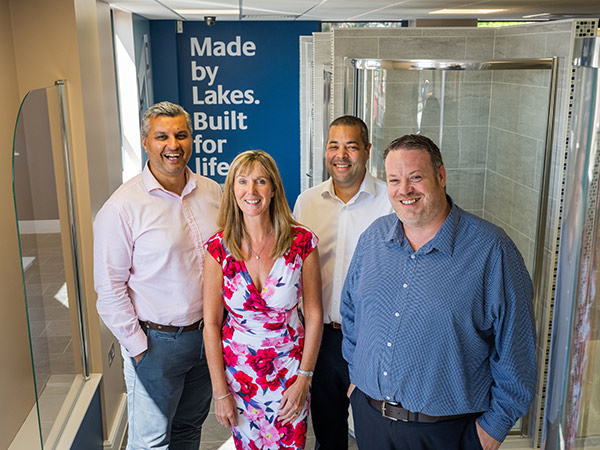 Showering product specialist Lakes has revealed a new board of directors and management structure as part of its commitment to future growth.
Bev Brown, who joined the Gloucestershire-based brand over 10 years ago as finance director and fulfilled the role of managing director for the last five and a half years, has now stepped up to occupy a dual role of finance director and chairman. Meanwhile, existing director Mike Gahir takes on the position of manager director, while Darren Bedford, who joined the business as national sales manager 16 months ago will move into the role of sales director. Completing the Lakes Showering Spaces board is Chris Thain who joined earlier this year as supply chain director.
In a statement the company – which was established in 1986 – said that the new structure enables them to drive the brand forward and puts the business in a strong position for both its employees and customers, further cementing its commitment to delivering the highest quality products and service.
Speaking of the developments Bev Brown, chairman and finance director of Lakes, said: "I am delighted to announce Mike's appointment as Lakes' new managing director. Mike has been instrumental in helping the board face the challenges that lie ahead, and he will continue to have a key role in driving the business forward on its journey."
Mike Gahir, managing director, said: "The team at Lakes have been a key part of the development of the company over the years, and the board changes are designed to enable us to continue to build on the fantastic results already achieved. Even though recent global events and market dynamics have not been favourable for businesses generally, here at Lakes we are in an excellent position to continue to grow and reinforce the brand's strong position in the markets where we operate."