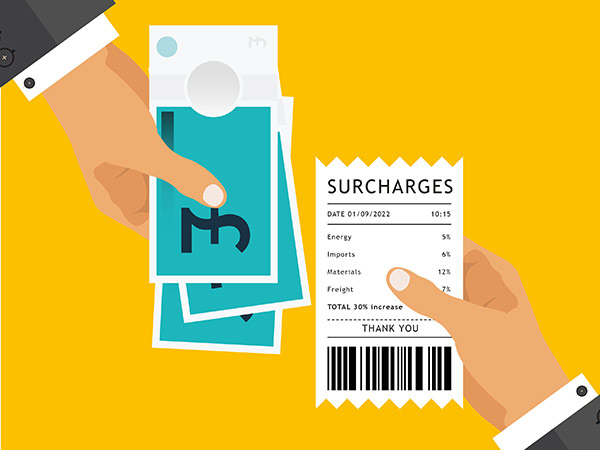 KBB retailers have hit out at supplier surcharges, calling them 'unhelpful', 'misleading', and 'ridiculous' and complain that they are confusing consumers.
Many suppliers introduced surcharges as a direct response to the volatile economic aftermath of the coronavirus pandemic. But retailers are finding them difficult to stomach, especially when it comes to having to explain the additional costs to their customers.
"We sell bathrooms to the general public and most don't even understand what a surcharge is," said Justine Bullock, a director at The Tap End in Pontyclun. "It's hard enough trying to justify the cost of goods as it is, without having to explain what a surcharge is on top of that."
Some business owners say that these price increases will not only damage supplier and retailer relationships in the long-term, but also hurt retailer and customer relationships in the short term as quotes are, as a result, "only valid for a day".
Johnny Bacigalupo, founder of Napier Bathrooms in Edinburgh, explained: "It's a way of shifting all potential loss of income or margin risk to the retailer. It's unhelpful, difficult, and brings distrust into the retailer/client relationship. We're at a stage where we need to say, 'your quote is valid for today; who knows what it could be tomorrow!' That's not good for our industry at all."
One retailer told kbbreview that they had a price change on products before the order was even delivered and that if they had not agreed to the increase, the products would not have been supplied.
Paul Mason, managing director of Bathroom Village, said: "We had a 20-bath stock order with one supplier, and the purchase order prices were correct. However, we had to wait eight weeks for delivery and on the day they were despatched, we had to agree to a 25% surcharge before they were released. We had to agree, as we had another 12 on backorder. Ridiculous behaviour!"
Surcharges are also said to be eroding retailer margins. As a result, the owner of Andover Bathroom Collection, Paul Ballantyne, is questioning using certain suppliers as the margins are no longer there.
He said: "Suppliers simply erode our margin and make me question why we're using them. Most have now removed them and incorporated the price rises into the RRP. Sadly, one company in our portfolio has brought them in recently just as they have had a price increase. Why? So, we have a 6% increase on top and another 6% below."
Bricks-and-mortar retailers point out that online shops are not increasing their prices. Justine Bullock, co-owner of The Tap End in Pontyclun, investigated this situation and found: "Online retailers aren't charging surcharges from what I have seen, and I have checked furniture retailers, clothing companies and grocery stores. They are obviously increasing their costs, but not in the form of a surcharge. Accepting a surcharge hasn't been presented to us as an option, it's been enforced, so we are having to accept it."
Surcharges, by definition, are a temporary increase in cost, and some are hopeful that they are a short-term measure and prices will eventually decrease.
"It does suggest that they could come off again," explained Alex Jenman, director of Gainsborough Kitchens in Lincolnshire.
"As a short-term fix, I'd rather they did that than have the cost of rewriting price lists. It will be interesting to see whose prices go up faster – the ones with the surcharges or those who reissue RRPs every time."