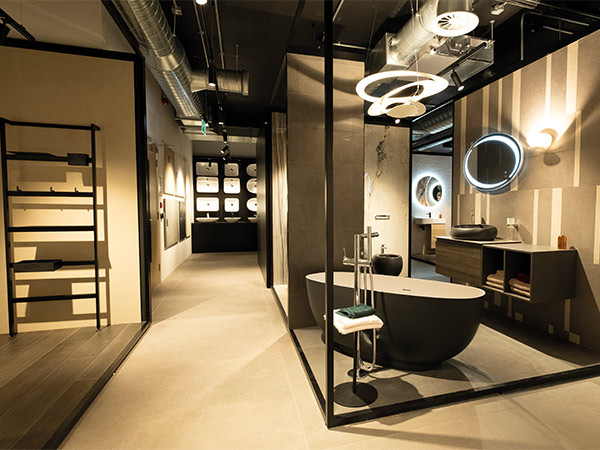 'We offer customers a unique solution', says Rak Ceramics CEO
Rak Ceramics has made its mark in the UK with its growing product portfolio, customer base and London Design Hub. Vicki Evans was at the launch of the new showroom and spoke to Rak global heads about how the company has become a complete bathroom supplier.
Rak Ceramics UK has gone through a transitional period. For the past five years, there has been a push to drive it from being a commodity manufacturer to a lifestyle brand. While the heads of the company remain modest, admitting that they are always looking to improve, standing in the brand-new Design Hub in Clerkenwell, it feels like they have already achieved their goals.
The London studio is a perfect visualisation of the brand as a whole. Though it looks rather unassuming from the outside, the showroom is vast, offering more than 7,000sq ft of floorspace over two floors. However, as you move through the showroom it feels like the displays and products stretch on for days.
The showroom highlights the brand's collaborations with world-class designers such as Patrick Norguet, who created the Rak-Valet collection, and Giuseppe Maurizio Scutellà, with his Rak-Petit range, his second collaboration with the brand. Of course, not forgetting the Ellie Saab collection where haute couture meets bathroom design.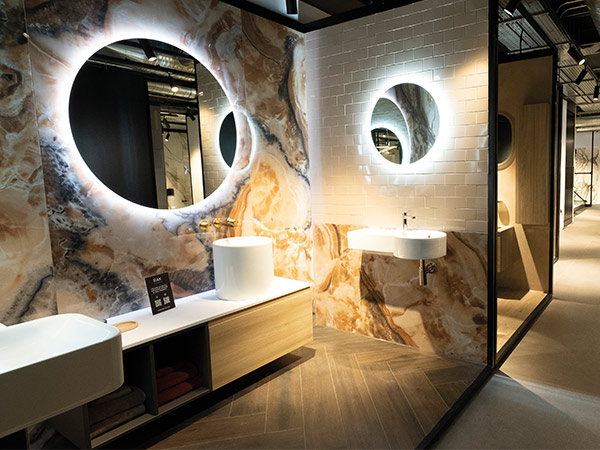 The Hub is, of course, for the Clerkenwell design and architecture community, but retailers and their clients are also invited to visit and see the products any time. It's an especially useful resource for viewing products, like large-format tiles, which are difficult to display effectively in retail showrooms.
The size of the company's product catalogue is impressive. It includes everything from small tiles and large-format slabs to WCs, basins, sinks, furniture and brassware. The volume of products is also astounding. Every year the company produces 118 million square metres of tiles, five million pieces of sanitaryware, 24 million pieces of porcelain table­ware and one million taps. All of which are made across its 21 factories and then distributed to over 150 countries.
Speaking to Abdallah Massaad, group CEO of Rak Ceramics, on the day the Clerkenwell showroom opened, he explained: "When you look at the ceramics market, Rak Ceramics are among the top five largest producers worldwide. We do not focus on one segment. We differentiate ourselves by giving customers a unique solution. When you sell volume, you have to cover different segments."
Challenges
There is a sense of determination about Rak Ceramics as they always see room for improvement. Also, at the showroom launch was Leonardo de Muro, VP of marketing and com­­munications, who said: "It's always a challenge to have the latest design, finish or colour. But being the first to launch a new product among other manufacturers is a huge challenge because it means we can never stop. We always have to work and think about what is missing in the market and our product portfolio, and then try to complete in our range.
"We can never say that we arrive at the top of the mountain, as we have to fight every day to improve ourselves, even if we are just competing against ourselves. There is always room for improvement."
Rak Ceramics' design process is thorough as it looks outwardly to the market in general and inwardly to its existing clients and their needs. Massaad explains the development process: "We always study what is required by the market, what is needed, and how we can differentiate ourselves from others. Our DNA has always been about the best quality, and we will not compromise on that. That is why the UK market reacted positively to Rak Ceramics because they appreciate the quality we have with our design-oriented products.
"We look at how we can convert a designer's idea into a tangible product. We look at what is practical because designers have nice ideas, but it's not always practical. We work to collaborate and adjust their idea into a real-life product."
At the core of Rak Ceramics is a commitment to look after its customers. De Muro explains: "We try to cover a little bit of everything, and this is the core strength of Rak Ceramics. We are strong in the retail markets, as we always take care of the needs of our customers. They come to us looking for something trendy, comfortable or fun that is made with the latest equipment. Innovation and technology."
Despite the disruptions and challenges of the past two years, like many, the company used that time to develop and improve. "During Covid, it was a good time for us to focus on our research and development, investing in technology and coming up with new solutions," explains Massaad.
"The internal team worked very hard, so when the market opened, we were ready with the volume of products the market required.
"We have faced many ups and downs, many global crises. If you look at the history of Rak Ceramics, even in 2008, with a global, economic, and financial crisis, we came out stronger. Covid was also a challenge, and we turned it into opportunities, and we came out stronger."
Some of the significant downs have been the supply chain issues that have haunted so many manufacturers around the world, so is Rak Ceramics able to get the product to the client when they want?
Massaad says: "We are well positioned. People don't want the cheapest product. They want something available and delivered on time. We are proud at Rak Ceramics that we are a reliable supplier." 
To find out how Rak Ceramics is doing in the UK, you can either listen to the podcast below or read more in the September issue of kbbreview.