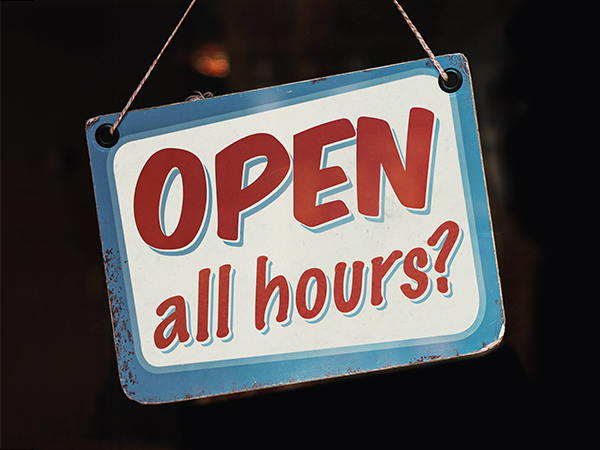 What are the optimal opening hours for KBB showrooms?
Deciding on the optimum opening hours can be tricky. Getting a happy medium between a good work-life balance for staff and not missing out on business is key. Toby Griffin looks at how some KBB retailers have tackled this.
With showrooms having to close during the pandemic, followed by reduced, phased and appoint­ment-only opening allowed, it gave many bricks-and-mortar KBB retailers time to consider their ways of working, and whether their previous opening hours and days were appropriate, needed or even desirable.
Following the pandemic, like many retailers the managing director of East-Sussex-based kitchen special­ist Jones-Britain, Dan Stronge, decided to open one day fewer each week, citing a better work-life balance as the driving force behind the decision. "I feel more effective at the showroom now," he says. "And I perform better as a result."
So with examples of amended, flexible and, often unchanged patterns of opening across the UK's KBB showroom network, it seemed worth taking a deeper look at the pros and cons of each approach.
As always seems to be a good starting point for such analyses, I took a poll of my KBB retailer connections on LinkedIn, asking 'which days of the week do you open your KBB retail business?' The results saw a broad spread of answers, with 31% saying they open seven days a week, 49% opening Monday to Saturday, 16% opening Monday to Friday, and 4% working on an appointment-only basis.
On the understanding then that opening Monday to Friday is almost a given, working weekends seems to be the main variable among retailers.
As the most contentious 'working' day, let's start with Sundays.
The Shops Act (1950) officially regulated Sunday shopping hours in England and Wales, making it illegal for shops to sell most products on that day. Margaret Thatcher's government sought to abolish this, and introduced the Shops Bill to parliament in 1986. But in a dramatic turn, the act was defeated by a rebellion of her own backbenchers.
Then, under pressure from large retailers to revisit this topic, eventually the Sunday Trading Act was passed in 1994, which liberated shops to open whenever they chose, but with the caveat that those stores of more than 3,000 sq ft were restricted to six hours opening time. Interestingly, throughout this entire period, Scotland left the topic of opening hours largely unregulated, despite the wrangling south of the border.
While Sunday trading has been heavily debated, notably all of the big KBB nationals appear to open on Sundays as a matter of course.
Scott Taylor, national retail manager of TKC, and formerly of Wickes, Wren Kitchens and B&Q, says: "Saturday and Sunday is worth 40% of your week in the sheds. Wren's monumental success is based on merging the availability and experience of sheds and inde­pendents. High footfall retail days demand showroom coverage."
This sentiment is echoed by Hayley Simmons, a KBB specialist marketing consultant who used to work for Magnet. "When you have a lead who is ready to buy, speed is key," she explains. "Having the flexibility to get the customer into the showroom quickly will give you an edge.
"People lead busy lives, but are also impatient and having the diary space to offer customers appoint­ments in the evenings and on Sundays is an advantage."
Large independent showrooms often follow the nationals' example. Darren Walker, managing director at Laings in Inverurie, explains that not only do they open on a Sunday, but they have even extended their opening hours from 12pm to 5pm after removing the late Thursday opening option.
It also seems that location and passing trade is also a consideration, as Mike Skelcher, retail sales manager at Rossendale Interiors in Bacup explains: "We are open seven days a week, but the team only has to work one Sunday in four, and also I club together their days off, as it's better for their well-being."
So, undoubtedly Sunday opening is seen as very useful in capturing browsing customers, depending on the business's position in the sector, and for those locations/showrooms with high footfall.
But is it necessary across the independent sector?