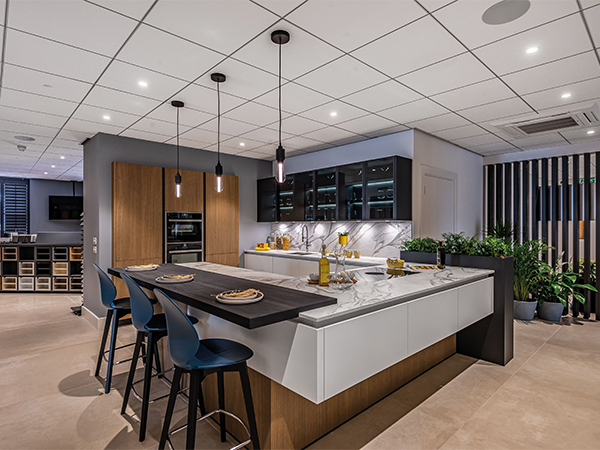 Et Lorem opens new immersive showroom
Located just off Reading high street, the brand new spacious and welcoming showroom by Et Lorem is an immersive experience for customers that engages every sense.
The Et Lorem company started with just managing director Jamie Harding and a bag of samples, but in two years, the company has expanded to a team of 11 with a beautiful new showroom.
Located just off the high street on Oxford Road, Reading, Et Lorem is on the second floor of a contemporary furniture specialist Beadle Crome Interiors. Harding says: "There is a sense of exclusivity on the second floor. We welcome walk-in clients, but we mainly work on an appointment basis, and upon entering the studio, clients know we are exclusively looking after them from the moment they arrive.
"We invite clients to open drawers and cupboards, experience the kitchens, and imagine what they want for their own project, treating the studio as a Pinterest board of inspiration they can touch. We love it when clients take photos of things they like and the mood boards we create together. There is never a sense of feeling rushed."
As much as the showroom is designed to inspire customers for their creations, there are many times when clients come in and see a display and order the exact one. Therefore, an area was created for designers to showcase samples and for customers to touch and feel the variety
of products and finishes.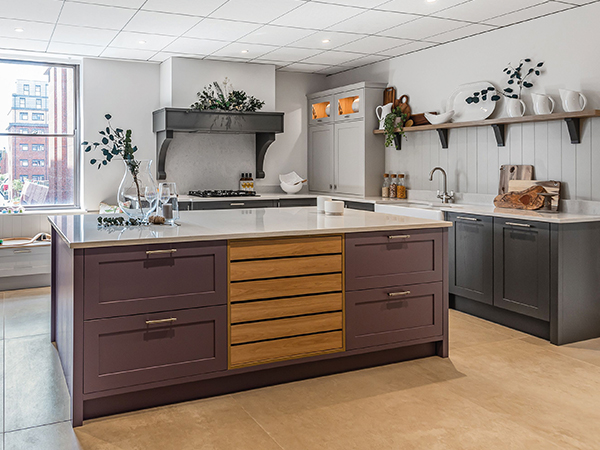 Customers are immersed in the showroom, and there has been an effort to engage all senses, including air-purifying plants and a special Et Lorem playlist.
"Everything about what we have worked towards at Et Lorem is about creating an unforgettable experience," Harding says. "They are wowed at every turn as each display offers an entirely new look. Clients are immersed in each kitchen separately to discover their tastes and not feel overwhelmed."
Half of the showroom is dedicated to Rotpunkt, and the German brand has supported the company from the start of the process. Other furniture brands include Masterclass and Doimo Cucine, as well as its own Et Lorem Bespoke range.
At Et Lorem, sustainability is high on the agenda and the company enjoys working with suppliers that match their philosophy. From the suppliers to the small details, Harding is always thinking of ways to make the business more eco-friendly. Even the coffee grounds from customer drinks are donated to local allotments and not sent to landfill.
Harding explains his eco-mindset: "We are constantly thinking about things we can do that make us more sustainable, and we are on target to achieve a net zero accreditation because we believe even the smallest details can make a huge impact."
Harding designed the showroom and the installation and project management was carried out by his head of operations, Richard Brown and his team of installers.
Harding explains how brilliantly the team worked during the renovation of the showroom: "The entire team have been very involved in the project from the start. Initially, there was no studio at all, so we have all been used to working through the building works and installation. However, seeing it come together right from the start has given us all a huge sense of pride in what has been achieved."