British Kitchen manufacturer Omega is aiming to build on its success in the contracts market with significant investment in its service and support structure.
In a statement, the Yorkshire-based business said it had "established itself as a major player in the contracts market" over the past six years".
The brand revealed it is planning to build on this success by "reinforcing the managerial structure" and by expanding the team to enable and support continued growth.
This year the brand has already invested over £500k into a 13,000 sq. ft. showroom, to enhance its proposition and service offering for retailers and developers.
Omega sales director John Cahill said: "Excellence in customer service is what achieves long term customer relationships. I am proud of the investment and infrastructure we have in place."
"Omega are industry leaders in aftercare service," added Katy Snow, national head of contract operations, Omega. "This is demonstrated by the number of home developers we supply to who exclusively work with us. Our aftercare service is integral to our contracts customers and one of the many reasons they continue to work with Omega."
Omega invested millions to secure raw materials pre-Brexit to support both its retail and developer partners. It has also made further investment in its manufacturing facility and logistics to, it says, guarantee a robust domestic supply chain and on time delivery.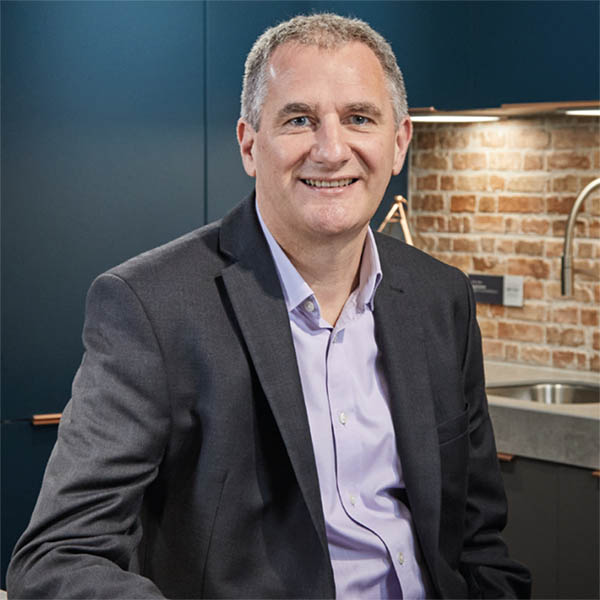 As part of its commitment to the developer market, and wider kitchen sector, Omega says it is also prioritising the planet as they work to become more sustainable in all areas of the business.
Speaking about its sustainable focus CEO Simon Barber (pictured) said: "In 2018, Omega invested £20 million back into the business with a focus on our future sustainability and corporate social responsibility goals. We created a best-in-class manufacturing and support centre offering the best kitchens in the UK with an underlying foundation to achieve a brighter future for our people, partners, and the planet. We support UN Sustainable Development Goals which we have integrated into our business practice."
"We have continued to make ongoing day-to-day changes and develop initiatives throughout the organisation that can aid our corporate and social responsibility and the long-term impact on the planet. We have actively set up steering groups to investigate and act upon which will all feed into our future measures and ultimately help to achieve our goals."