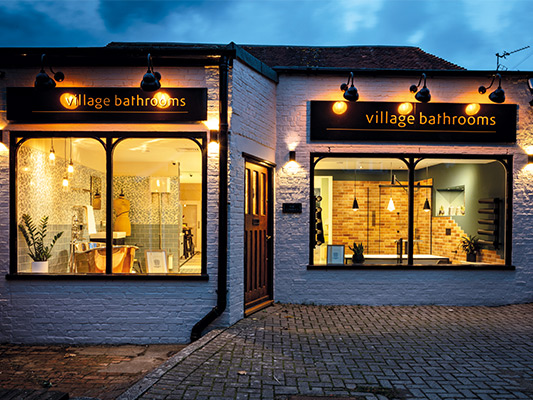 Inside Village Bathrooms' bold and charming showroom
Despite looking like a quaint cottage from the outside, this colourful and vibrant showroom is packed with impressive displays
While the stone walls look unassuming, passers-by can immediately tell that this is no ordinary showroom. The bright and funky displays are visible through the large windows, framed by that charming façade.
Stepping into the showroom, the first thing a customer would notice is the bold copper bath. Then, as they move around the showroom, they see many more displays that showcase various styles, from traditional to modern and industrial. The showroom has a natural flow and encourages customers to walk through the space and see all seven main displays, as well as the five smaller sets.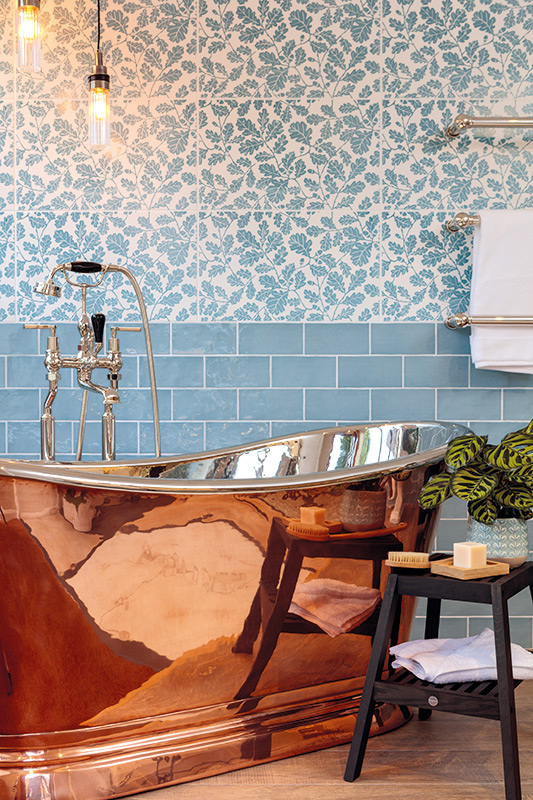 One standout area is the bookcase showing different tiles and brassware samples. It is an excellent place for clients to view the products in their specific categories and to see multiple choices in one place.
"The aim is to create a welcoming and enticing space that also gives an element of surprise and captures the imagination," says Darren Standing, owner of Village Bathrooms. "It is calming, inviting and at times playful, with carefully selected surfaces. A space where clients are encouraged to linger, interact and take their time."
Playful really sums up the space, as there is a sense of excitement and joy in the showroom that really reflects the welcoming vibe of the whole company. The bright colours attract your attention and showcase the varied bathroom designs.
The brands they work with include, but are not limited to, Majestic Showers, Lefroy Brooks, Bette, BC Designs, and Ca' Pietra. Standing says: "We have selected premium brands that showcase a broad range of themes from traditional and industrial through to contemporary to appeal to a wide range of design tastes.
"The colours and themes were carefully selected to complement the range of styles; the tiles, wallpaper and paint choices enhance the designs further – encouraging a move away from grey.
"The suppliers have also been a great help in creating the showroom. In keeping our supplier base small, we are in a position to build close relationships that will deliver results for both," he adds. "Our aim is to spend a large amount of money with a small number of manufacturers as opposed to spreading ourselves thinly."
The designers' desks and presentation area are separate from the main showroom in a bid to differentiate the aspirational element of bathroom design from the more practical parts of the process.
Village Bathrooms only opened its doors in September. However, its sister plumbing and heating company, Village Heating, has been operating for 12 years.
Customer feedback about Village Bathrooms' showroom has also been good. As Standing says: "We've had an overwhelming response from customers visiting the showroom. 'Wow' has featured heavily alongside comments about how this is the best showroom they've seen, and there is nothing like this around."