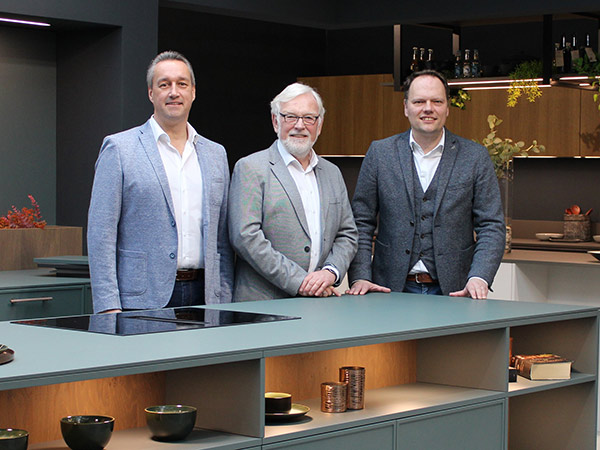 German kitchen manufacturer Rotpunkt has announced another year of strong sales growth and has pledged to invest in measures to improve capacity and availability.
Sales for the 2022 financial year were up 15% to €100m (£88.4m). Turnover of €87m in 2021 showed an increase of 19% over the year before, with sales between 2018 and 2022 rising by a total of 54%.
The family-owned Germany company admitted that the 15% increase in sales was largely attributable to product price increases. In a statement it said the figures were "greatly influenced by necessary price adjustments, as the brand navigates the significant price rises in material and energy".
Sven Herden, managing director for sales and marketing revealed that sales volumes also saw an upward trend. He said: "Around 5% of the sales increase can be attributed to a tangible increase in volume, which is further supported by our network of retailers who continue to take the Rotpunkt kitchen to the next level of quality design. Furthermore, the growing desire for added-value features like lighting and custom design elements are also helping to grow profit margins with additional sources of revenue coming from outside the kitchen like the utility room, bathroom, fitted wardrobes and walk-in dressing rooms."
Exports accounted for 80% of Rotpunkt's sales, with the Netherlands accounting for the lion's share, followed by Germany, France, the UK, Scandinavia and Austria.
Good news for retailers came in the company's pledge to help improve the supply chain situation with a further investment of €15m to increase capacity and overall business operations.
"The global pandemic has shown that 'just-in-time' needs to be redefined," said Herden. "Therefore, further capacity expansion projects and new facilities for goods receiving, shipping and logistics are first on the agenda, with a view to speed up product availability for retailers. Added to this, planning permission has been granted for a new structure to be built at the company's headquarters on Ladestraße in Bünde, with work earmarked to start in April 2023."
Rotpunkt is also committing €2.5m to modernise and replace its current manufacturing equipment with a new automatic drilling machine to improve production.
Looking to the future, the company said it will invest around €50m in securing the company's future over the next few years. Rotpunkt still anticipates a moderate sales increase in 2023, despite the current economic climate.
Managing partner Andreas Wagner believes sales this year will be "slightly above the previous year", which he attributed to "a large backlog of orders and high level of quality incoming sales".