This mother-and-son kitchen and bathroom business in north London prides itself on service and thrives on pushing the boundaries. Suzanne Baum talks to owner Suchin Pindoria of Such Designs
It is not often I hear of a thriving mother-and-son business, which makes Such Designs a rarity. It is the mother of 37-year-old owner Suchin Pindoria who is the driving force behind Such Designs – a shop that has made an excellent name for itself in the kitchen and bathroom industry.
"My mother Nanita is the real heart of the company," says Pindoria. "She keeps me grounded when I get carried away with designs and investment in the showroom. She is a great sounding board for my ideas and thoughts on where I want to take the business and without her eagle eyes on our finances we would not be where we are today."
Still very much at the forefront of the business, 56-year-old Nanita is responsible for handling the finances and accounts and also helps on the bathroom sales.
"There is something special about having a family-owned business," says Pindoria. "The industry is in our blood and, because we are so passionate about what we do, I think it makes us all the more approachable."
With a background in selling plumbing and electrical parts from a trade counter and servicing a construction company, Pindoria and his mother made the decision in 1996 to expand into kitchens and bathrooms.
"I joined the company after graduating from UCL in 2001. At that point, the company was selling Crown flat-pack kitchens and we were selling bathrooms aimed at the trade end of the market," says Pindoria.
"I didn't want to just shift boxes and I felt that trying to compete with the likes of B&Q and Magnet was not a good long-term business model. In 2005, we decided to open Such Designs and we introduced niche brands such as Dornbracht, Vola and Gessi to our bathroom portfolio. In kitchens, I chose to work with two German brands, Rotpunkt for our mid-level market and Eggersmann for customers with higher budgets. At this point we also managed to introduce Gaggenau, Sub-Zero and Wolf to our appliance portfolio."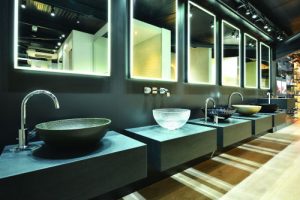 Impressive
The company, which is based in the Trojan Business Centre in Willesden, employs a staff of seven. All the team try to keep up-to-date with training and have regular meetings with their manufacturer sales representatives to keep informed on product innovation and changes.
Although Pindoria acknowledges the Brent Park location is not ideal in terms of attracting passing customers, it is certainly a very impressive showroom once you walk inside. Split over two floors, I was very impressed by the size of it – the 6,000sq ft space is cleverly designed with the ground floor given over to kitchen displays and the upper floor to bathrooms.
"When we first found the building, it was ideal, as we basically started off with a blank canvas," explains Pindoria. "We managed to acquire a property opposite to our warehouse, which we were able to strip down and remodel entirely. We placed new drainage, under-floor ducting for our hoods and a mezzanine floor. We do not have passing customers, but that works for us, as we are more of a destination showroom. We have plenty of parking and a large amount of working products on display.
"We have concentrated our designs based on what was possible with the products – and showcasing our design passion for incorporating material, shapes and lines to create fully finished pieces that would highlight our installation capabilities, as well as the product."
In a bid to show to customers his design skills, Pindoria has created a hidden access to the showroom's meeting room behind a sliding, mirror-clad door – all of which can be design supplied and installed by Such Designs.
"We work closely with structural engineers to create illusions like our floating peninsula, which can support over three tonnes of weight, to show that the only barrier to a design should be the imagination of the client or designer," says Pindoria.
Showcase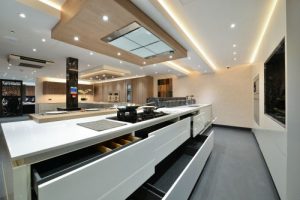 All bathroom bays in the showroom are life-size to reflect customer's real-world houses. I notice how cleverly the tap displays have been created using handmade, mitred boxes to frame each tap. "We felt it is important to showcase each product, rather than display the taps on a shelf," says Pindoria.
As for the most popular selling item, he says it changes depending on current trends. Right now, he points to boiling water taps and combi-steam ovens being specified in nearly all of his kitchens.
As with most businesses, Pindoria is aware of just how important it is to use social media.
"We are very active on Instagram, Facebook and on our website. We are looking at ways to expand our marketing further to incorporate Twitter, LinkedIn and other social media platforms."
Trying to adapt to an ever-changing market is the hardest challenge Pindoria and his mother face as they continue to adapt their products, services and marketing to accommodate their customer base.
"We have stopped all paper-based marketing and we are solely focusing on online marketing and social media. We are trying to develop closer relationships with our suppliers," he says.
"My philosophy is to sell fewer brands, but build closer ties with the brands that we do have. This will put us in a better position when negotiating terms and exclusivity and product knowledge."