Demand for extra storage capacity from companies anxious about supply chain disruption should the UK crash out of the European Union without a deal has soared over the past few months, making warehouse space scarce.
Evidence of an upsurge in enquiries for warehousing space has been reported by the leading trade association for the logistics industry, the UK Warehousing Association (UKWA).
It released the findings of a straw poll survey last month showing that 90% of warehouse owners said they had received Brexit-related enquiries, particularly for short-term requirements, while 75% said they were now full and couldn't take on any new customers.
UK kitchen furniture manufacturer JJO (warehouse pictured above) is one firm that has taken action to plan for a worst-case Brexit scenario, increasing holding of European-imported stock at a cost of more than £1 million. The firm said that this lifts its finished goods stockholding to more than £7m.
According to Malcolm Scott, commercial director at Swift Electrical, BSH and the Whirlpool group have rented large new warehouses in the UK and filled these with stock that is being held quite separately from their normal UK stockholding, specifically for emergency use.
In his monthly column in the March issue of sister magazine kbbreview, Scott said: "Franke and Luxair have implemented systems that build up factory stocks and increase distributor stocks, thus reducing their traditional lead times of four to six weeks from factory to retailer, so that any extra delay at the ports will be offset by a faster order turnaround."
Meanwhile, HMRC has been contacting KBB retailers warning them to prepare for an unknown Brexit by applying for an import licence if they import any goods from the EU.
Dave Hicks, owner of KBB import firm Coral Designs, which buys product mainly from Italy for resale in the UK, received a letter from HMRC in December, which said that in the event of a no deal, you need an EORI [Economic Operator Registration and Identification] number to continue to import.
"That means every business, VAT registered, that imports 1,000 bathroom pieces or a bag of tap washers needs one of these numbers. Accountants will be the only winners here," he said.
It seems there may also be changes to how VAT returns are submitted, potentially meaning extra cost for new software.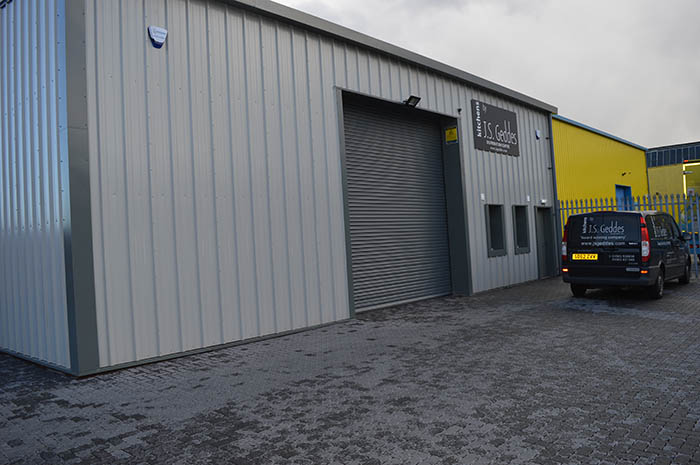 Speaking to kbbreview about preparing for Brexit, John Pollitt, JJO sales and marketing director, told kbbreview: "It has been widely reported, that if no agreement is reached with the EU, goods leaving the EU for export to the UK and goods entering the UK will incur delays due to increased customs clearance procedures," he said
"We needed to avoid the danger of running out of goods as a consequence of this possibility. We entered into dialogue with all of our European suppliers. Our strategy was to increase our stockholding and ensure deliveries were received and held in our warehouses, prior to the EU withdrawal date of March 29."
Pollitt told kbbreview that the company was "fortunate" that this spike in spending could come out of cash reserves and not finance and would not affect existing investment plans for 2019, including new IMA plant machinery (£750,000), three new HGVs (£350,000) and a new trade centre (£900,000).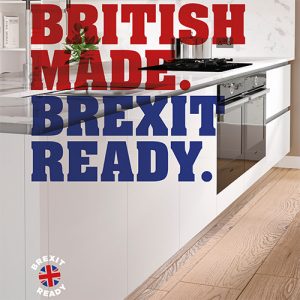 "Our February 2019 kbbreview advertisement says it all. We have acted as a responsible manufacturer, ensuring service and supply to our retail customers is unaffected. We feel more comfortable, in the knowledge that our goods are on this side of the English Channel and in our warehouses," added Pollitt.
Omega, another major UK kitchen manufacturer based in Yorkshire, recently told kbbreview that a £20 million refurbishment of its site meant that it now had capacity to hold five months worth of stock and speed up lead times, making it – according to a prominent advertising campaign – Brexit-ready.
As UK-EU negotiations go down to the wire, KBB retailers have also been taking action. Kitchens by JS Geddes near Glasgow, which sells Poggenpohl kitchens and Gaggenau appliances, said it is holding about two months more stock than usual at a cost of between £50,000 and £60,000.
Last year, owner and managing director Jim Geddes built a new warehouse about 100 yards away from his showroom in Kilmarnock, which has been helpful for providing the extra storage in anticipation of a Brexit-induced supply chain breakdown.
"Poggenpohl have been great at getting product to us early, so we already have all the stock we need for anything to be delivered for March and April," Geddes told kbbreview.
"My gut reaction is that if there is a no-deal, we could be looking at a few weeks of delays at the border, and we are more than prepared for that," he said, but after that he believes things will settle down.
Unlike some, Geddes is upbeat about Britain's future outside the EU. "The world is not going to end because of Brexit. There might be an extra cost as a result. We have spoken to manufacturers and suppliers about it. We have had positive conversations.
"They want business to continue and we want business to continue. So, we all have to be sensible about how the tax burden is split if there are tariffs. We may have to take on 2% or 3%."
He suggested suppliers may have to swallow the rest under World Trade Organisation (WTO) trading rules.
KBB trade body the KBSA has urged members to maintain a dialogue with their suppliers so that they can plan their workload based on realistic scenarios.
"Retailers will not want customers to face unforeseen delays or sudden increased costs, keeping lines of communication open and planning in advance will be key to managing the challenges ahead," said KBSA national chair Richard Hibbert.
The UKWA said: "The logistics industry is the enabler of international trade and the view from our industry is that the prospect of a 'no deal' Brexit is catastrophic.
"We recognise that the withdrawal agreement on the table is not perfect, but it does allow us to move ahead towards transition out of the EU.
"We believe, along with most business leaders, that MPs should put aside dogmatic, entrenched positions and abandon political jockeying, instead putting the future of our country – and our economy – first."