The winners of the SBID (Society of British and International Design) International Design and Product Design Awards 2020 have been revealed.
Due to the ongoing impact of coronavirus, for the first time in the event's 10-year history, the winners were announced publicly online rather than at a live ceremony.
The Design Awards cover a host of categories ranging from restaurant design to retail to residential houses over £1 million and hotel design.
This year SBID said it received entries from 49 countries, including the UK, Switzerland, Malaysia, China and Egypt, to Japan, Denmark, Indonesia, Brazil, and Australia.
Among the winners in the interior design categories was regular kbbreview Retail & Design Awards finalist Pippa Paton of Pippa Paton Designs. Paton took home the KBB Design category award for her Cotswold Bedroom and Bathroom project.
The Product Design Awards – which were a completely new addition for 2020 – cover categories including accessories, bathroom products, brassware, cabinetry and joinery, flooring and floor coverings, kitchen product, lighting, sanitaryware and surfaces and finishes.
The winner in the Kitchen Product category was Quooker for its Flex tap with Cube (pictured below right). Spanish bathroom brand Acquabella took home the Bathroom Product Award for its Smart Quiz shower tray, while British radiator manufacturer, Bisque won the award in the Heating & Cooling category for its Balmoral radiator. For the full list of winners in the Product Design categories, click here.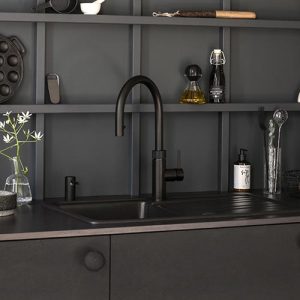 SBID Founder and CEO, Dr Vanessa Brady OBE said: "We have all been struggling to cope with the broad effects caused by Covid-19 – as individuals, as well as a community. So the Awards this year, whilst very different, have been particularly inspiring to review. It just goes to prove the importance of our surroundings and how the way we feel and act within them is directly impacted by it. It's been an important reminder to business owners that good design is not just about its aesthetic and functionality, but particularly in commercial space, it's also about the intrinsic value great design adds to business."