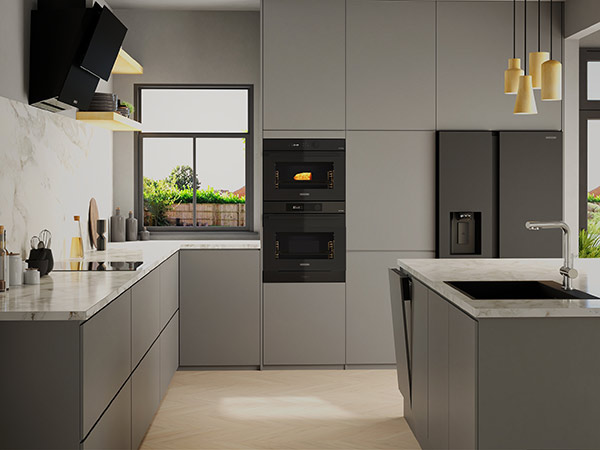 Samsung is growing its business through the kitchen channel and has plenty of stock of its built-in products, says Tanya Weller, marketing director for home appliances, UK.
Speaking to kbbreview at the recent IFA show in Berlin, Weller said: "If you look at the investment we are making in the product and in outbound calls and dedicated aftercare for the kitchen channel, these are things you don't do unless you really mean it. The fact that we have dedicated marketing and launched Kitchen Circle shows how serious we are about it."
Samsung did an official 'relaunch' of its Kitchen Circle proposition at the KBB show this year and Weller says that sales of Samsung built-in appliances are rising fast. She told kbbreview: "We are confident that by the end of the year we will double our built-in, kitchen business. We are growing in distribution and KBB was a really successful show for us. We have some really strong displays across the country and within our existing distribution base around 90% of them have now taken on the new ranging. We are growing that distribution constantly."
And with supply chain issues still lingering on, the good news is that Samsung is confident in its ability to supply.
Weller said: "Everyone had had their problems, but we are confident that we have plenty of stock available for built-in right now."
UK kitchen channel manager Jonathan Hartley also confirmed this, saying: "At Samsung, we have dedicated teams constantly working to make our supply chains as efficient as possible, so we can minimise any impact on our customers. We do this through careful forecasting and working closely with our customers and suppliers, which allows us to ensure visibility over demands and set our plans in a way that minimises any potential issues. Our new fully wi-fi-connected Series 4 and 5 ovens and combis are all well stocked in our distribution channel with stock available for customer orders."
Built-in will continue to be a major focus for Samsung going forward. Weller said: "Built-in is a big opportunity for us and there is a big investment and focus [on it]. We had a rather disjointed range before, it wasn't easy to navigate and we had quite a few holes, but now with the new range we are really confident we can offer our retail partners a strong offering, with really strong product differentiation to make people want to work up through the range."