German family-owned appliance brand Kaiser opened its first showroom yesterday in London's Kings Road.
The showroom enjoys a high-profile corner location on the iconic road that is home to many interior design and kitchen showrooms and is just a stone's throw from the prestigious Chelsea Harbour design district.
Kaiser launched into the UK last February and the new showroom is intended to be a resource to raise its profile in the UK and allow retailers and their customers to touch and play with the whole range in one place.
The new showroom displays Kaiser's classic, retro-style products as well as the brand new, ultra-modern La Perle range with full internet connectivity, app control and an oven that features an air fryer, which is one of Kaiser's claims to fame. Kaiser says it is one of the very few brands to offer that technology built in.
Kaiser UK managing director Nikita Loginov said: "Our biggest reasons for investing in our showroom in Kings Road is that it is a great location, it makes a big statement and it will give people who are on the fence the chance to touch and feel the product. It is very hard to sell from just a picture."
Loginov added: "When this showroom popped up, we had our eyes on its straightaway. There are many kitchen and interiors companies around here. We are a designer brand that is perfect for this location."
After a launch to the UK press in the morning, Kaiser invited a selection of retailers to visit the showroom. The company is actively seeking retailers and is very keen to sign up kitchen showrooms. It has two at the moment, Norgrove Kitchens in Kidderminster and Absolute Finesse in Loughborough, but Loginov is hoping to have signed up 10 retailers by the end of the year.
A year on from Launch, Loginov said that Kaiser is making good progress in the UK.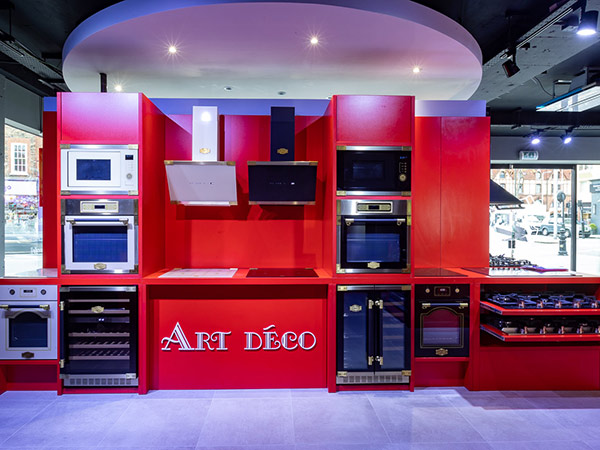 "We had a very good start to 2022," he told kbbreview. "We started selling from our website and towards the end of 2022 we got into several independent retailers. We are in talks with a few others. We have seen a good increase in business at a tough time and a tough market. I think that the fact we have opened this showroom is a great testament to the brand and shows that we are here and want to expand."
Commenting on what would make Kaiser attractive to kitchen showrooms, Loginov said: "We offer very competitive margins. We prioritise selling quality not quantity with a high margin and very good customer service, whereas the huge brands just want to sell a lot. One of the advantages we can offer retailers is that they will be one of the few selling Kaiser products. They will have that exclusivity."
He added that the fact that Kaiser products are very different was also a key selling point: "We are quirky, we are a bit Marmite and we are happy with that. In a very saturated market where it is very hard to stand out, that is where we step in."
Kaiser also promises that it has plenty of stock available.
"We are a small brand and the challenge that the big brands have is that they have to supply to 150 countries in the world," explained Loginov. "That is why, along with Covid, there have been supply and parts shortages. They didn't impact us as much as the bigger brands and certainly now the supply chain is fine. We have stock. We have a transit warehouse in Europe and we can get stock in three or four days. Every month we are getting two shipments in."
Kaiser is also recruiting to build up its team in the UK and already has three engineers on the road to deal with servicing.
Loginov said that another showroom in a major city such as Manchester may also be on the cards in the future.
Kaiser makes 60% of its product in Germany and sells mainly to Germany – where its turnover last year was around €25 million – France, Austria, Italy and Africa.
In his opening address at the showroom launch event, Loginov concluded: "I am super-proud of my team. We are growing a lot and I hope this showroom will be a massive turning point and boost for our business."