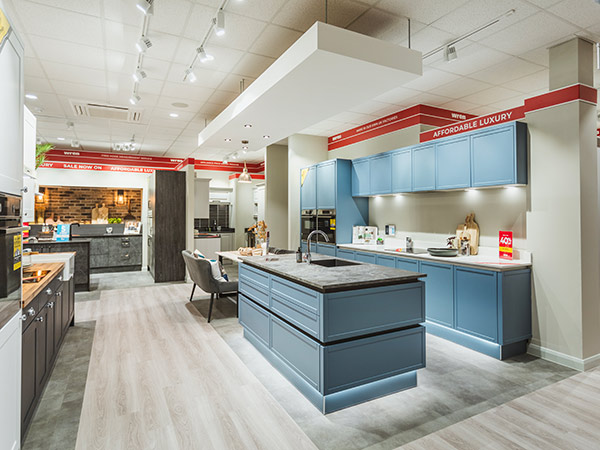 Retail giant Wren has opened its 109th UK showroom as part of its national and international expansion strategy.
The Yorkshire-based firm – which branched out into the US market in 2020 – recently opened a new 19,078 sq ft showroom in St Helens, Lancashire on the Ravenhead Retail Park creating 25 new jobs in the local area.
In addition to 36 kitchen displays, the new studio includes 18 VR enabled design suites, to enable consumers to interact with their design concepts as well as a sink and tap display area. Following its launch in to the fitted bedroom furniture market last month, a display of its bedroom range has been included in the St Helens showroom.
Commenting on the launch of its latest showroom, Wren general showroom manager, Scott O'Brien said: "I am very excited to be opening our new store in St Helens. My team and I are looking forward to meeting the community and welcoming them into the showroom. It has also been a pleasure to support the local economy by creating 25 jobs within the area."
To celebrate the opening of the St Helens showroom, Wren is donating £500 to both Willowbrook Hospice and Brain Tumour Research on behalf Mayor Sue Murphy and St Helens Rugby club player Tommy Makinson, who will be officially opening the store.
Last year Wren announced details of its $30 million (£23m) US expansion plan which included new showrooms in Selden (New York), Wilkes-Barre (Pennsylvania), Lawrenceville (New Jersey), and Commack (New York). Its kitchens for the US market are manufactured in its 252,000 sq. ft. manufacturing facility in Wilkes-Barre, Pennsylvania.