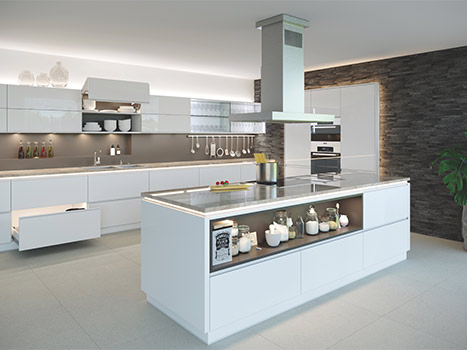 New consumer research has revealed that kitchens and bathrooms rank high on the priority list for consumers hungry for home improvements.
According to the results of Häfele UK's 'Functional Spaces: Homes for Living research almost half (45%) of the 2,000 UK consumers surveyed said they are planning home improvements within the next two years.
The good news for the KBB sector specifically is that a new kitchen (23%) and bathroom renovations (21.4%) were among the top choices for those consumers planning home improvements.
Other planned home improvements include interior decorating (29%), external works like roofing, gutters and external paintwork (14%), new windows (13%), adding or upgrading a downstairs toilet (10%), fitting a new boiler (10%) or new lighting (9%).
This research builds on a similar study conducted by the company in 2022, that explored the impact of kitchen design on wellbeing and mental health.
"During Covid lockdowns, there was a huge spike in home improvement projects of all scales and sizes, but more recent economic circumstances have put many plans on hold," said Natalie Davenport, head of marketing at Häfele UK. "In our survey of 2,000 UK homeowners, however, there are indications that half of households plan to spend on their current property in the coming years.
"The kitchen is a particular area that homeowners are looking to improve, especially as our research found that one in ten people do not like their current kitchen."
Delving into why consumers rank kitchen and bathroom renovations so highly, the survey revealed that 81% of homeowners feel they would have an improved quality of life if the biggest issues in their kitchen were resolved – an increase of 16% versus the findings of the company's 2022 report.
According to the results not having enough storage (28%) was the most common motivator behind their decision to plan a new kitchen. Size was an issue for a quarter of respondents who selected 'too small' as their biggest issue. Cluttered worktops (19%), damaged and tired cabinets (17%) and inaccessible cupboards and shelving (15%) were also frequent problems.
A quarter of consumers selected a style overhaul as the motivator for why they would update or have updated their kitchen. Quality improvements (23%) and lack of storage (19%) were second and third on the list.
Given the cost-of-living crisis and economic uncertainty it's perhaps unsurprising that budget and overall cost was the most important factor for those consumers that had recently bought or updated their kitchen (34%) and almost half of those consumers that said they need to upgrade their kitchen are worried about the cost to do so. This figure has increased by 6% since Häfele's 2022 study.
Examining the priorities for those planning a kitchen upgrade in the next two years, the top four comprise quality and how long it will last (19%); budget and overall cost (18%); function and usability (14%); and style and how it looks (11%). Almost a quarter of respondents (24%) said they would shop around to get the best functionality for their budget.
"The importance homeowners place on their kitchen remains strong and consumers are increasingly aware of the impact their home and its design and function have on their daily lives," concluded Davenport.
"Our upcoming report sharing more of the findings will outline a multitude of insights that will help those involved in all aspects of home design to create better spaces for the consumer, as well as understand their new priorities and drivers when it comes to purchasing and decision making.
The full report will be available later this summer. Visit hafele.co.uk