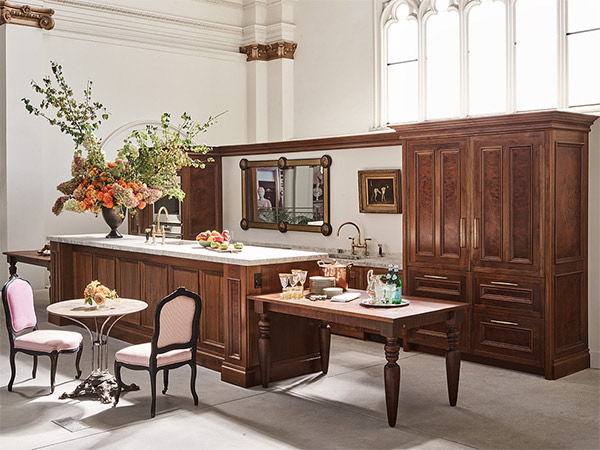 Luxury kitchens account for around one-third of all kitchen sales in the UK through specialist studios compared with just over 15% in 2000 – and that trend shows no signs of slowing.
The UK Luxury Kitchen Market report from JKMR looks at mainstream fitted kitchens – including worktops, sinks, taps and MDAs – worth at least £60,000, excluding VAT in both retail, and trade sales to luxury properties and new-builds marketed at £950,000 or more.
The report reveals that between 2012 and 2016 almost 350,000 luxury kitchens were sold through retail and new-builds and continued to grow at a strong rate between 2016 and 2019, suggesting, said JKMR, that the replacement cycle will remain strong.
Between 2002 and 2005 the luxury sector grew rapidly by 25% in volume, driven by wealthier families moving to rural areas. Between 2005 and 2007 there was a further growth of 17% in volume against overall market growth of just half that (8.5%).
The recession was a factor between 2008 and 2011, which saw the overall market volume fall by almost 6%, while the luxury sector enjoyed a growth of almost 30% on the back of a boom in high-priced properties in the South-East and more city centre redevelopment.
Between 2012 and 2017 the overall kitchen marked experienced good volume growth of 25%, but the luxury sector outperformed it with a growth of 55%. Sales values also went up in that period by 57%, compared with just 38% in the overall kitchen market. The substantial rise in sales values was driven by a rise in specification.
The report also highlighted that at levels 3 and 4 out of 5 among that top 10% of spenders, were now looking at products previously the preserve of the highest-spending 2%, "not," said JKMR, "because such products had become more affordable, but because they had greater exposure to product choice" thanks to digital media".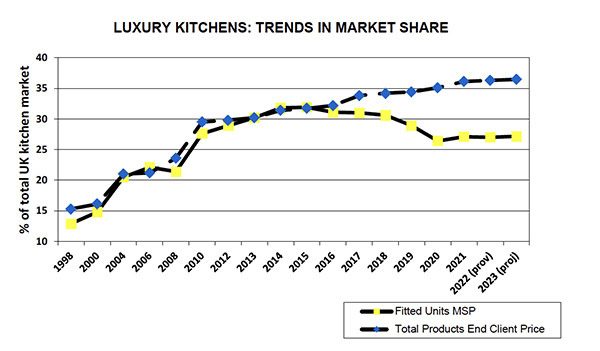 Looking at the amount spent on kitchens, JKMR focused on the top 10% of all installations and divided them into five segments. In 2009, it revealed that 90% of all UK sales saw a spend of less than £13,000 and that where only 2% of clients that year spent in excess of £27,600, by 2022 the minimum spend for that top 2% had risen to £70,000 and their 'starting point' was 70% above that of 2015. The two segments below that top 2% saw their starting point 75% higher than 2015.
In terms of channel sales, 2011 to 2017 saw the number of premium priced or above kitchens sold by specialists increase from just under 28,000 to 44,000, taking its share of installations from 20.3% to 26.1%. In 2019, installations dropped to less than 41,000 but their share of all studio sales rose to 27%. After a further dip in 2020, thanks to Covid, premium/ultra-luxury sales by specialists topped 46,000 in 2021 and are expected to rise to more than 49,000 in 2022, which will represent almost one third of all specialist sector sales.
Throughout the 2010, imported brands dominated cabinetry sales at the highest end of the market, increasing their share of top-level sales from 31.2% of installations in 2011 to 37% in 2019. The report pointed out that during that period the UK market was often more buoyant than the German or Italian domestic markets and so there was a large marketing and showroom investment from many foreign brands. However, by 2019 Brexit was hampering exports and so imports barely rose in 2021 and are expected to fall to less than 37% in the luxury sector in 2022.
UK rigid brands took a 31% share of the luxury market in 2019 and although that percentage dropped to under 27% in 2020, it is expected to near 31% again for 2022.
Small bespoke retail stores grabbed just under 22% of luxury market installations in 2011, rising to 23.2% in 2015, reaching 27% in 2021 and are expected to hit 27.5% in 2022. The report added that small-scale UK cabinetry production has notably increased its presence in the UK market over the past decade, underlining that the concept of buying something totally unique remains key to luxury buyers. The report concludes that market share for luxury kitchens will continue to rise and that "there is little reason to doubt that high net worth consumers will continue to spend serious money on their kitchens since the expenditure will not be viewed as excessive in relation to property value" and that generally speaking, the majority of these buyers "are unlikely to face a substantial drop in income even in a period of recession".